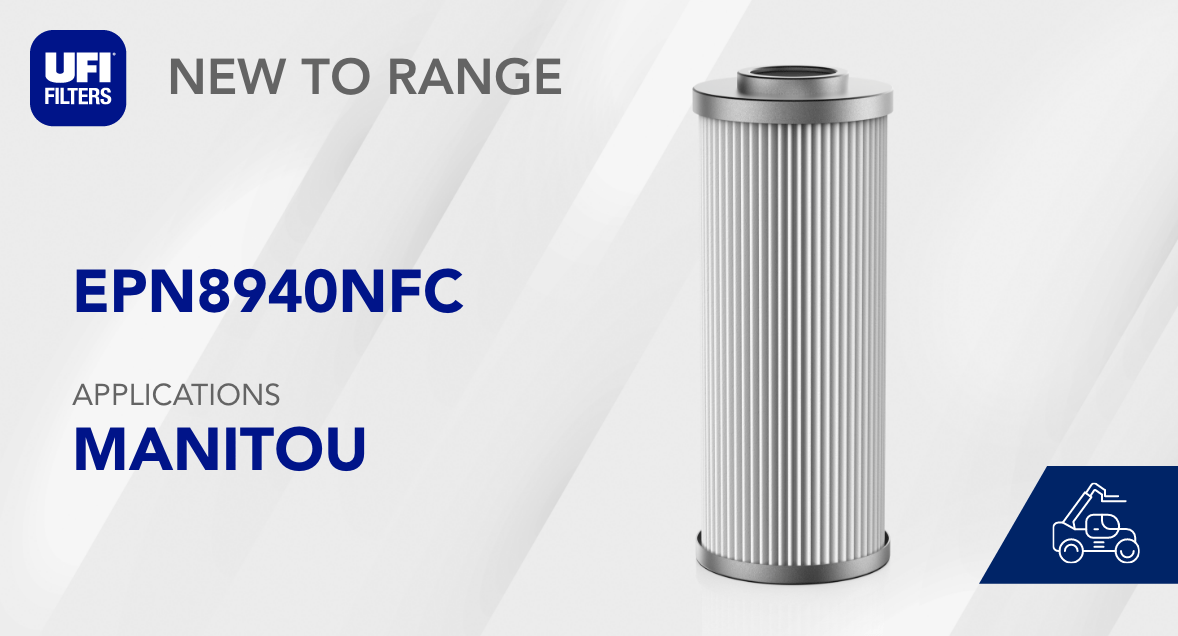 The new EPN8940NFC, made in Italy by UFI Filters Hydraulics, is specifically designed to cross the pressure filter element for Manitou Telescopic Handlers

New entries every day
UFI Hydraulics' cross reference is constantly updated with new matches and is focusing even more on new products and part number, not only of the competitors' but especially for OE application.
The first new product introduced at the beginning of this year is the EPN8940NFC, interchangeable to Manitou 563483, that is installed in the pressure line of the hydraulic system of the Manitou Telescopic Telehandlers for construction and mining applications.
Main applications of the pressure filter element for Manitou Telescopic Handlers
In detail, this filter element is present in the hydraulics system of the following Manitou models:
MLT629
MLT633T
MLT633TWLSPS
MLT720
MLT730
MLT730T
MT732
MT932
OEM quality guaranteed
UFI Filters Hydraulics, thanks to its 30 years know how and experience in the hydraulic sector, guarantees the same quality and the same performance of the OE filter element.
Moreover, the customer can rely on the quality of 'Made in Italy' production.
Main features
The EPN8940NFC is made with the FormulaUFI.MICRON media, 10 micron©, for standard collapse differential of 2 MPa (20 bar).
On request, it can be also provided with different media and different filtration rating or with specific seal and treatment, according to the requirements of each application.
As all the UFI Hydraulics elements, also EPN8940NFC employs the latest generation of FormulaUFI media, it provides the highest level of fluid cleanliness while maintaining low pressure drop characteristics.
For further information, do not hesitate to contact us: our Sales Team will be happy to support you in identifying the best filtration solution for your needs.