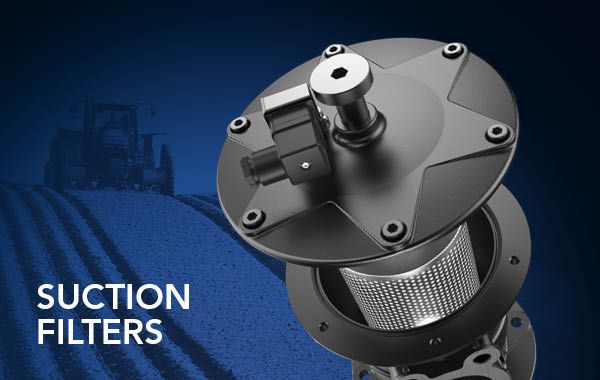 The download section of UFI Filters Hydraulic Division website includes the maintenance manuals for suction filters
Now downloadable for free the instructions for the correct maintenance of suction filters, in addition to pressure, return-line and off-line filters maintenance manuals, already available on UFI website.
What is the purpose of a suction filter?
Suction filters protect the downstream hydraulic-pump from coarse contamination, mainly due to lack of initial cleaning or to an accidental contamination.
They take care of the pump, ensuring a safe and efficient operation.
For this reason, suction filters represent the "first-line" filtration and are used to:
avoid the entry of contamination into the hydraulic circuit
prolong the lifetime of finer downstream filtration
reduce the particulate-load on the finer filter, thus extending service life-intervals, unplanned downtime and maintenance
avoid damage to the finer downstream filter from coarse particulate, such as rust
An effective suction filtration therefore ensures a reduction in kWh running costs of the hydraulic-pump.
Similarly, the correct maintenance of the system is very important for the reduction of system management costs, together with timely replacement of the filter elements when exhausted.
Main advantages of keeping your filter clean
Carrying out a correct maintenance of hydraulic filters allows the component to operate efficiently, maintaining high operating levels and avoiding declining performance.
Unfortunately, this activity is often underestimated.
The missing replacement of the filter element when necessary, can lead to unpleasant problems, such as:
damage of very expensive components inside the system, such as the pump, which involves high replacement costs, as well as machine and production downtime
increase in management costs due to productivity decrease
higher operating costs generated by hydraulic components recovery due to early wear
Suction filters maintenance manuals
In order to support its customers in this important activity, UFI Filters Hydraulic Division published the maintenance manuals of suction filters directly online.
Thus, the instructions to carry out the replacement of the element inside the filter or other accessories are accessible from any device, available 24/7.
The maintenance manuals of suction filters illustrate steps by step the correct replacement of the various filter components. Each manual also includes a 3D picture of the filter that highlights the components involved in the maintenance operations.
Finally, the manual recalls the rules for the correct disposal of exhausted filter elements and replaced components, that are classified as "Special hazardous waste" and must therefore be dismissed according to local regulations by authorised companies and operators.
Click here to download the suction maintenance manuals from the DOWNLOAD section.
Our staff is available in case of doubts regarding the correct maintenance operations and also for further support in the selection of the most suitable components for your hydraulic system.