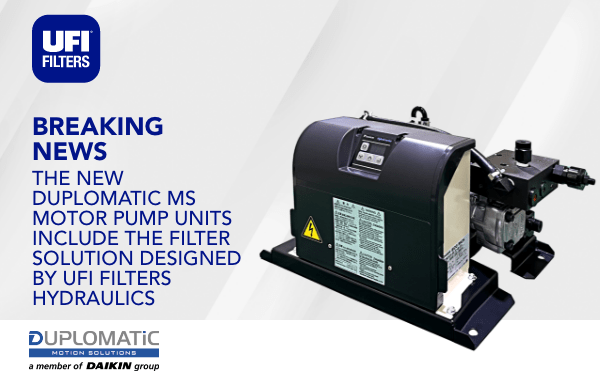 The fruitful partnership between UFI Filters Hydraulics and DUPLOMATIC MS continues with the new power packs presented at EMO including the EHU – ECORICH HYBRID HYDRAULIC POWER UNIT series and the DUPLOMATIC DAIKIN SUPER UNIT.
At EMO 2023, the world's most important event for production technology and components, in Hanover, Duplomatic MS presented the latest innovations in motion control and hydraulics, the result of its collaboration with Daikin Industries, which the Italian company joined in June 2022.
The new energy-saving power units, designed for industrial applications, use technology already pioneered by the Japanese company, a leader in air conditioning systems.
This guarantees very low power consumption, which is extremely important in terms of sustainability.
The new series is equipped with a high-efficiency inverter motor that allows precise control of the power output, significantly reducing oil heating and thus ensuring longer life and less heat loss to the environment.
UFI Filters Hydraulics' filtration solution for the new DUPLOMATIC MS power units
DUPLOMATIC MS relied on UFI Filters Hydraulics' 30 years of experience and professionalism for the design of the optimal filtration solution for its new power units.
The hydraulic fluid medium allows the hydraulic system to function properly over time.
Through the engine pump, the fluid transmits power to the various system components, lubricates the system, removes heat from the components, and ensures that contaminants remain in suspension before being captured by the filter.
Therefore, the fluid must continuously maintain the level of fluid cleanliness specified by the manufacturer.
For this reason, the choice of the most suitable filter is of paramount importance to guarantee the performance of these systems over time, which operate in various industrial sectors such as machine tools, presses and hybrid systems.
The customized solution developed by UFI Filters Hydraulics is compact, light and guarantees high storage capacity thanks to the FormulaUFI.MICRON. 
In fact, the filtration technology developed by the UFI Group allows the machine to operate safely over time.
The FRI series return line filters, designed by UFI Filters Hydraulics, are completely submerged in the tank, reducing the footprint and the space required for the filter.
The compact design also optimizes space inside the hydraulic tank and makes installation and maintenance easier, saving time and effort.
The FRI series is made of aluminium to withstand the harshest industrial environments and ensure consistent filtration performance over time.
Optimized flow for energy efficiency
The FRI series is designed to maintain optimal flow through the system, even when the operating conditions vary.
The in-tank filter design, developed by UFI Filters Hydraulics, enables the hydraulic system to deliver consistent performance, minimizing pressure loss and promoting energy efficiency and overall system reliability.
For years, to meet its hydraulic filtration needs, DUPLOMATIC MS has relied on UFI Filters Hydraulics, as a reliable supplier capable of developing specific filtration solutions for customer-defined requirements.
For more information or to determine the most suitable filtration solution for your application, please contact our sales team.