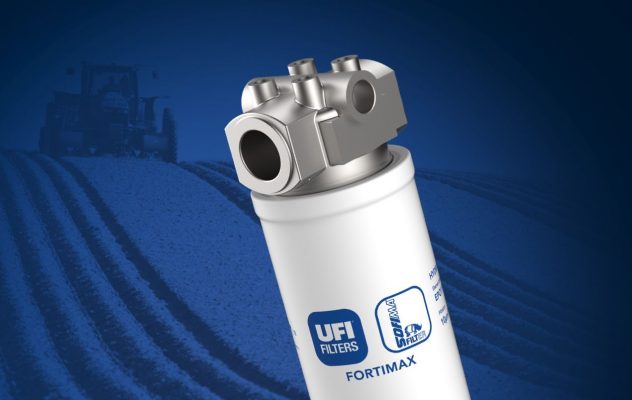 The catalogue of the new FPO series, high pressure spin-on filters, is available on the website of UFI Hydraulic Division
The FPO series completes the spin-on families already present in UFI Hydraulics range, which includes complete filters and elements for hydraulic systems on suction, return and pressure lines, with filtration from 90 microns up to 5 absolute microns and flow rates up to at 300 l/min. The main feature of spin-on filters is the easy and rapid replacement of the used cartridge and is strategic when the machines involved in the maintenance operate in particularly contaminated contexts and difficult environmental conditions.
Features and benefits of the new high-pressure spin-on filters series
In particular, the filters of the FPO series are typically mounted in-line and can be used on hydraulic circuits with maximum working pressure up to 35 bar and flow rates up to 200 l/min.
Compact design and quality construction make this range of spin-on filters suitable for mobile, industrial and agricultural equipment.
FPO Series Filters are made with resistant die cast aluminum head, steel body, polyamide bypass valve and brass indicator. The filter element is available in both fiber and resin impregnated cellulose, with a filtration degree from 5 to 25 microns.
Standard version filters are supplied with a by-pass valve set at 1.7 bar or 3.5 bar.
FPO filters offer definite and reliable performance. Thanks to the quality of the synthetic fiber, UFI spin-ons ensure high efficiency and greater storage capacity than similar products on the market.
New high-pressure spin-on series ideal also for aftermarket
FPO series can meet OE, OES and independent aftermarket requirements, thanks to UFI filtration technology and manufacturing background. 
All UFI filters are subjected to a rigorous test regime and this ensures an excellent performance compared to many competitive originals; check UFI high-pressure filters equivalent p/n in our Cross Reference.
In addition, UFI can produce special filters configuration upon customer request.
The new high-pressure spin-on series will be available starting from June 2021.
Download the updated catalogue now or contact our Customer Service for more information!