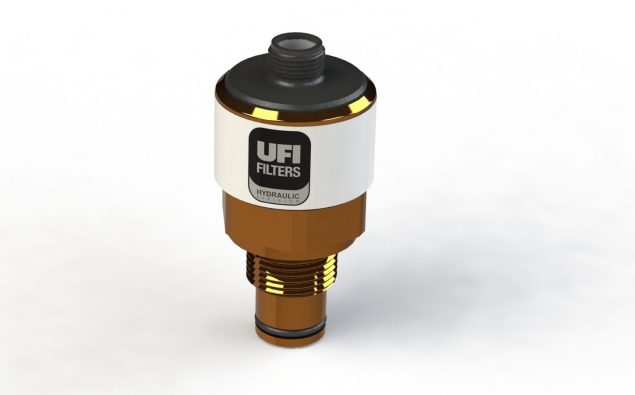 UFI presents the new differential clogging indicator with double setting and built-in connector, patent granted in Italy, Europe and USA, currently available in two different versions.
The main feature of the new differential sensor is the possibility of being calibrated. This means that the indicator can be customized according to specific customer or application needs and requirements.
In addition, the new sensor can be tailored even after the connector has been fitted in, i.e. at the final stage of the process or directly at site by the Customer.
Based on its experience in filtration and in order to meet the most frequent requests from customers, UFI included in the catalogue two versions with double calibration set.
Version 1 with lower double setting, 1.5 bar (75%) and 2 bar (100%), and Version 2 with higher values,  3.75 bar (75%) and 5 bar (100%).
The new differential clogging indicator with double setting can be mounted on all filters of UFI range with predisposition for differential clogging indicator, mainly pressure and return filters, up to a maximum operating pressure of 450 bar, with IP67 protection degree (totally protected against dust and temporary immersion in water up to 1 meter of depth) and a differential setting range from 2 to 10 bar.
Therefore, this product is ideal for use in "harsh" environments exposed to humidity, dust and mud, especially in the farming and earthmoving machinery industry, but it can be used in any other application that requires multiple and customizable calibration.
Moreover, the innovative connection system is conceived to allow quick, accurate and efficient installation of the connector onto the sensor. Specifically, the indicators included in the catalogue are available with M20x1.5 connection, as this kind of thread is one of the most widespread and used for main hydraulic applications, but this model can be supplied also with the following connection, on request: Deutsch DT04-2P; AMP Superseal; M12x1; AMP Junior Timer and DIN 72585 connector, with level of protection  IP67 to IP69K.
Furthermore, the new clogging indicator is available also with ATEX and UL certification on request.
Download the complete updated catalogue of UFI clogging indicators for all technical details of this brand new product as well as the complete range of all existing sensors.
Finally, in case of need for special executions, our Team will be happy to evaluate with you the most suitable product for your application.