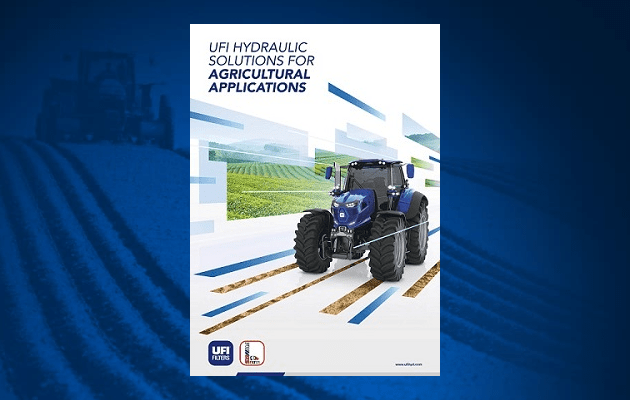 The new brochure dedicated to UFI Hydraulic filtration for Agriculture is available online, in the download section of the Hydraulic Division website
The Hydraulics Division of UFI Filters Group, thanks to more than 25 years of experience in hydraulic filtration, guarantees the necessary technology and background to manufacture complete filters, spare parts and accessories specifically designed for Agriculture applications, in order to meet the most demanding OEM, OES and independent aftermarket requirements.
Reliable products to endure extreme conditions
The agricultural environment is extremely diversified, and presents variable soil that leads to high variation of vibrations and a high presence of dust and debris.
For this reason, agriculture applications require increasingly complex performing machines to operate without interruption in difficult environmental conditions, with flexible dimensions depending on the use.
Since hydraulic systems represent a substantial part of each agricultural machine, it is important to implement an effective filtration program, in order to reach the following goals:
preventing the damage of sensitive components
extending maintenance intervals and reduce engine and hydraulic components wear and costs
improving the performance and the machinery
reducing environment pollution and oil consumption
For these reasons, selecting the best supplier for the most critical hydraulic components is a matter of paramount importance.
UFI Hydraulics Division products offer tailored and reliable performance, that are considered strategic features when the machines involved in the maintenance operate in extreme conditions.
UFI Hydraulics components are designed to be compact, lightweight and easily serviced, yet providing at the same time exceptional service life to work properly in the most demanding of operating environments.
The new brochure dedicated to hydraulic fintration for Agriculture is available online
The specific brochure that illustrates in detail UFI Filters Hydraulics products dedicated to Agriculture is available in the DOWNLOAD section of our website.
Download directly the new brochure by clicking here.
In order to select the best product for your specific agricultural application, please contact our Staff, that remains available for any technical support and any further information.