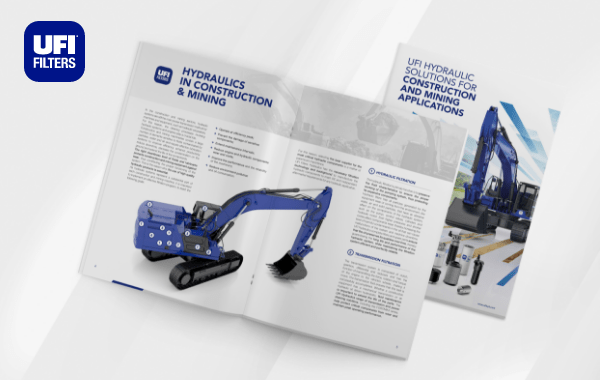 The new brochure dedicated to UFI hydraulic solutions for construction and mining sectors is available online, in the DOWNLOAD section of our website
UFI Filters Hydraulics, thanks to more than 30 years of experience in hydraulic filtration, has the filtration technology and know-how to manufacture complete filters, spare parts and accessories specifically designed for construction and mining applications.
Every day, we work to create innovative and sustainable solutions in hydraulic filtration, and to meet the requirements of the most demanding operating environments and applications.
Reliable products to withstand the harshest environments
The construction and mining sectors are two of the most demanding industries in the world, with narrow margins for unplanned maintenance. 
Construction and mining are essential industries with a vital role in modern society, supporting our energy systems, manufacturing, building construction, transport, and infrastructure.
Hydraulic systems are still the most commonly used power transmission systems in the construction and mining sectors for machines and equipment such as hydraulic excavators.
For this reason, the cleaning processes for hydraulic systems and engines play a crucial role.
Since the hydraulic system represents a substantial part of every construction and mining machine, it is important to implement an effective filtration program, in order to achieve the following goals:
+ Operate at peak efficiency;
+ Prevent damage to sensitive components;
+ Extend maintenance intervals;
+ Reduce engine and hydraulic component wear and costs;
+ Improve the performance and reliability of the machinery;
+ Reduce environmental pollution and oil consumption.
For these reasons, it is essential to select the best supplier for the most critical hydraulic components.
Discover the complete range of UFI hydraulic solutions for construction and mining sectors
UFI Filters Hydraulics products offer dependable and reliable performance, strategic characteristics for machines involved in maintenance that operate in particularly contaminated and difficult environments.
The UFI Filters Hydraulics range dedicated to the construction and mining sectors includes:
Suction filters for pump protection
High-pressure filters for sensitive components
Return line filters for tank-top mounting
Portable filtration units for contamination control
Transmission filters for combined protection
Oil filters for engine protection
Fuel filters for maximising engine performance
Oil mist separation for environment protection
Air vents for reservoir protection
Air filters for efficient combustion
High-quality accessories for any measurement
UFI Filters Hydraulics components are designed to be compact, lightweight and easy to maintain, while providing exceptional durability, and hence they perform well in demanding operating environments.
Several OE companies, as JCB, HYUNDAI CONSTRUCTION, KOMATSU, BELL EQUIPMENT, HYVA and XCMG, have already chosen UFI Filters Hydraulics as their technological partner in the development and optimisation of hydraulic systems for many different types of construction and mining vehicle.
Our dedicated brochure, which illustrates in detail every type of UFI Filters Hydraulics products for the construction and mining sector, is available in the DOWNLOAD section of our website.
Download the new brochure by clicking here, or contact our Staff for technical support or further information.