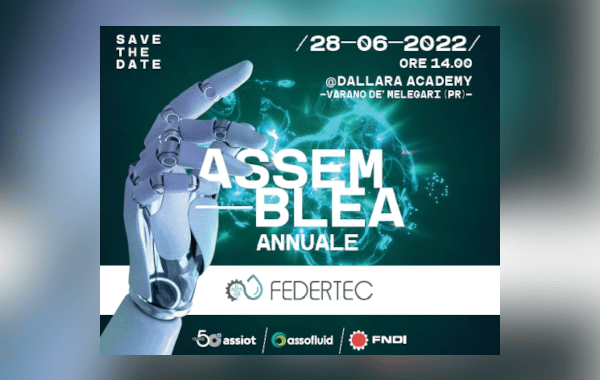 Appointment with UFI Filters Hydraulics, one of the main sponsors of the FEDERTEC Assembly, on 28 June in Varano de' Melegari (PR) at Dallara Academy
UFI Filters Hydraulics, that next July celebrates 30 years of activity, will be the protagonist of one of the most important events for the plumbing sector, the FEDERTEC Annual Assembly.
FEDERTEC represents the main Italian companies in the Hydraulic, Pneumatic and Transmission sectors, established in 2019 by ASSOFLUID – the Italian Association of Builders and Operators in the Hydraulic and Pneumatic Sector – and ASSIOT – the Italian Association of Transmission and Gear Body Manufacturers.
For UFI Filters Hydraulics, being a member of FEDERTEC is one of the fundamental pillars, as the FEDERTEC associated companies represent an important cross-section of the Italian economy and express values of absolute importance with a total 2021 sector turnover exceeding 12 billion of euro and a national market value of 9 billion of euro.
The main objective of the Association is to coordinate, protect and promote the technical and economic interests of the hydraulic and pneumatic sector and UFI Filters Hydraulics understood the importance of participating in the association life since the very beginning of its business. In fact, the Hydraulic Division of the UFI Filters Group became part of the association back in 1995, only 3 years after its establishment.
Cesare Grassi, Chief Division Officer Hydraulics, comments: "We are proud to participate in this event as one of the main sponsors. The Federtec annual meeting is in fact an important moment of aggregation, but above all of is a significant occasion for sharing ideas between the main players in the fluid power sector".
The companies associated with FEDERTEC represent the best of the industry in this sector, therefore UFI Filters Hydraulics, for almost thirty years, has been one of the main contributors to the associative objectives thanks to the sharing of data and to the development of various initiatives to support the entire sector.
In its 30th year of activity, UFI Filters Hydraulics took the opportunity to further contribute to the associative activity with the sponsorship of the FEDERTEC annual assembly, as an important opportunity for sharing the initiatives and activities carried out by the association, including the awarding of the annual Degree Thesis Award, to support young talents from Italian universities.
At the conclusion of the Assembly, the celebrations for the 50th anniversary of ASSIOT will take place, with special guests from the Motor Sport world.  
A company visit to the Dallara and the museum will follow.