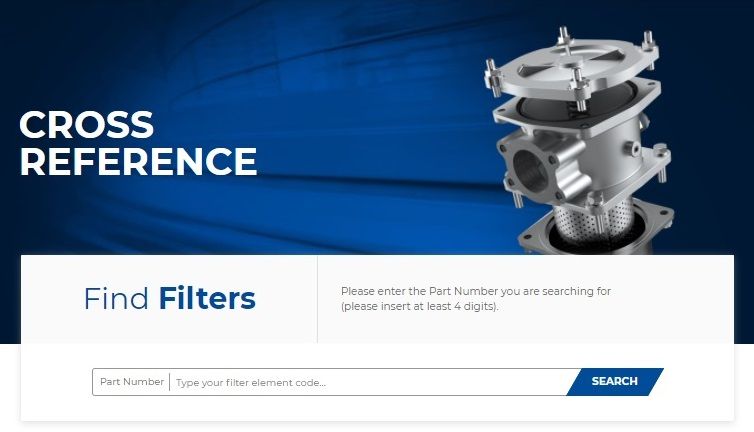 UFI Hydraulic Division is glad to announce the new release of UFI Hydraulics Cross Reference, now available online.
UFI Hydraulics Cross Reference Webtool helps you identify competitor filter elements and find the correct UFI alternative quickly and accurately.
The most important improvement of this new release compared to previous version is the additional function that allows the user to find not only the single UFI equivalent part number to the original one, but also the main competitors' part numbers replaced by UFI.
Moreover, UFI Cross Reference is starting to include not only competitors' part numbers, but also OE references, that will be highly enriched in the next months.
How to use UFI Cross Reference webtool
The whole process of cross reference research is user-friendly and is easily accessible also from tablet or smartphone.
Have your part number ready, even partial or uncomplete
Click on UFI Cross Reference webtool from UFI Hydraulic Division website homepage
Type in your part number in the search bar
Once you find your part you can immediately look for the nearest retailer or send an enquiry to our Sales Department using our contact form, directly from the research result page
Can't find the part number you need? Submit an unknown filter inquiry including a much information as you can
UFI Filters Hydraulics manufactures replacement filters for many other high-end brands including Baldwin, Donaldson, Filtrec, Hydac, MP Filtri, Pall, Parker, etc. We cross-reference more than 23,000 part numbers from filter companies and our products meet or exceed OEMs' specifications.
UFI expertise provides you with access to field-tested products and services designed to address your standard or custom Hydraulic Filter needs.
All UFI filter elements, both original and interchangeable ones, are subjected to the same rigorous tests and manufacturing process in order to meet the most demanding OE, OES and Aftermarket requirements.
In many applications, UFI alternative elements even exceed the performance of the original part number.
Frequently Asked Questions on UFI Hydraulics Cross Reference
Q: Are UFI interchangeable filter elements made to the same standards as UFI original elements?
A: Yes, UFI interchangeable elements are manufactured to the same exact standards as UFI original elements.
Q: Will my UFI interchangeable element perform as well as the original element?
A: Yes, all UFI interchangeable elements are designed to be fully interchangeable with the original element and to perform to the same or better standards.
Q: If I cannot find the cross reference that I am looking for on the cross reference search engine, where can I go for further help?
A: You may send an email to our Staff and ask for further support.
Q: Where can I buy a UFI interchangeable element?
A: UFI interchangeable elements are available through our network of distributors. Please look at the dedicated webpage in order to find the nearest retailer.
Q: Where can I get the latest and most up to date information on UFI interchangeable element cross references?
A: UFI cross reference database is constantly growing, so for the most up to date information use the Cross Reference online.
Q: If I need more specific information on a particular UFI interchangeable element, where can I go to get it?
A: You can contact our Staff, they will send you the required technical data sheets.   
Q: If I find a UFI interchangeable element available in a micron rating different from the one that I am interested in, is it possible to produce an element to my exact requirements?
A: Specific requests are being received all the time. The element that you are interested in may already be available but not published as available yet on the internet, so please contact our Staff in order to verify any availability
Enjoy your surfing!