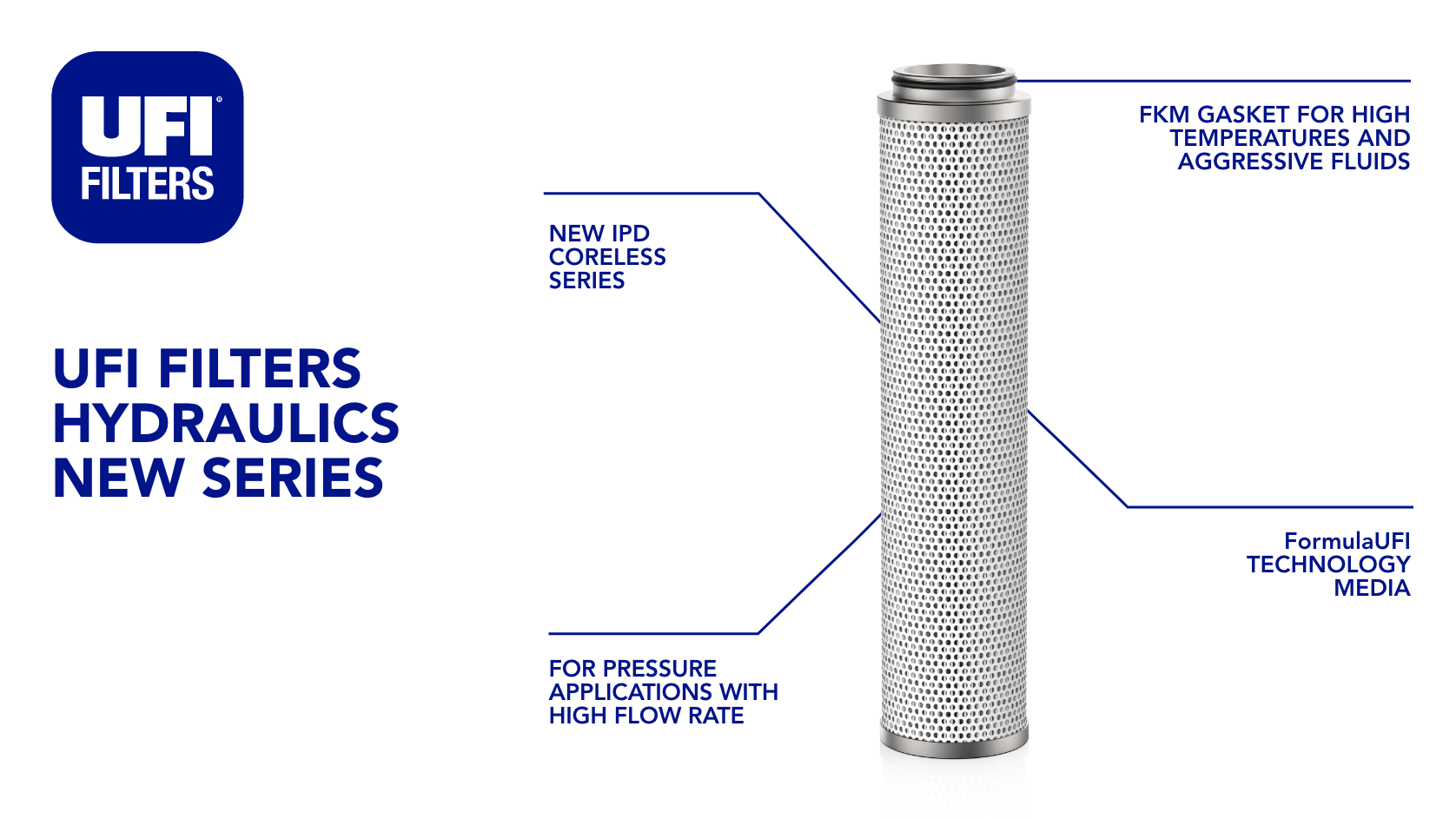 Within UFI Filters' range of filter elements, the new generation of IPD elements has been developed to enable efficient refitting of pressure filter elements for UE209, UE219 and UE319 type Pall Housings.
The UFI Filters Hydraulics IPD series combines UFI's proven filtration know-how with an eco-friendly design that eliminates the core to provide a convenient, cost efficient and environmentally friendly solution for high-flow-rate applications.
The IPD series is designed as an exact fit for all standard Pall filter housings, and is specified to deliver outstanding durability, performance, efficiency and ease of use.
The UFI Filters Hydraulics design ensures correct interaction of the filter with the original Pall filter housing, enabling the element to be extracted from the housing with the housing cap.
The IPD elements are used mainly in pressure filter housing, where they provide filtration for hydraulic and lubricating oils.
The latest FormulaUFI media technology for the IPD series
In addition to the coreless configuration, the new IPD series has been developed using FormulaUFI.MICRON media technology, with filtration ratings from 3 to 30 microns and collapse differential pressures of up to 1 MPa (10 bar).
Our latest FormulaUFI.MICRON media features a unique fibre composition that safeguards critical system components such as pumps and valves, while simultaneously reducing costly downtime.
The FormulaUFI.MICRON media ensures high stability even under operating conditions such as a cold start or high differential pressures, guaranteeing a high level of contamination retention.
The main benefits of the UFI Filters Hydraulics media technology include:
Pressure drop reduction
Improved filtration efficiency at higher differential pressures
Optimised distribution of contamination
Longer filter life
Benefits of in-to-out filtration
The in-to-out design of the IPD series ensures that the contamination remains in the element, even during pressure pulsations.
The coreless IPD filter elements fit over the stainless steel core, which is retained within the filter housing to facilitate easy maintenance: simply pull up the element over the core, and it is ready to accept the replacement element.
Moreover, the materials of the IPD series are compatible with all petroleum oils, water glycols, water–oil emulsions and most synthetic hydraulic and lubrication fluids.
The standard version is fitted with a fluorocarbon seal, allowing it to withstand even the most challenging operating environments, including temperatures up to 140°C and flow rates up to 230 lt/min.
However, the IPD series is also available with nitrile seals, for operating environment temperatures up to 110°C.
Steady expansion of the Cross Reference range
The IPD series offers straight replacements for 78 filte elements for Pall UE209, UE219 and UE319 series with the quality and performance you can expect from UFI Filters Hydraulics.
Further information on the IPD series and all UFI Filters Hydraulics interchangeable elements is available from Cross Reference online.
For any other additional information, don't hesitate to contact our sales team!