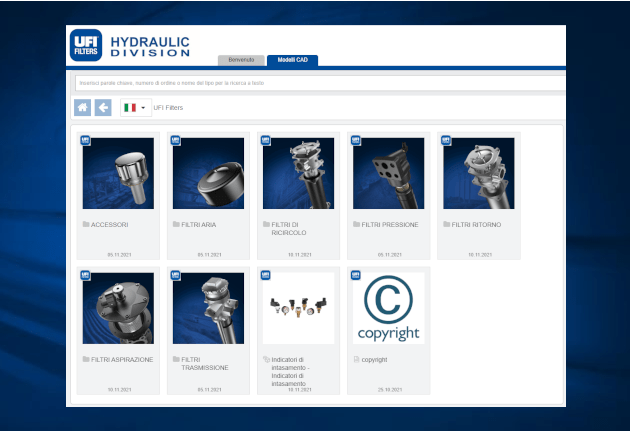 The Hydraulic Division of UFI Filters Group is glad to announce the new release of UFI Hydraulics 3D library, with new features and more than 8.0000 3D drawings
2.500 downloads in 2021 from more than 50 countries
The 3D Library, together with the other webtools available in UFI Hydraulics website, is one of the most requested services by our customers, with more than 2.500 high-quality 3D drawings downloaded in 11 months, from more than 50 countries, located in 4 Continents.

UFI Hydraulics 3D Library new features
The main features of the new release are:
The FORTIMAX series has been included in pressure filters section
1000 new drawings have been added to the previous available ones, so that the total number of downloadable 3D drawings is more than 8.000
30 additional downloadable formats have been added to the previous available ones, so that the total number of available formats is 150 in total
The 2D drawing has been included for each part number
The updated information chart presents the direct link to the catalogue and other additional technical information, like materials, flowrate, working temperature and applications
The downloadable datasheet has been implemented with 3D preview, 2D drawing and all the available technical features and dimensions.
How to access the 3D Library
UFI Hydraulics 3D Library is available in the Webtools section of the UFI Filters Hydraulic Division website or in the 3D CAD models download portal PARTcommunity, that last year registered 450 million model downloads.
UFI Filters Hydraulics is continuously expanding and improving its digital parts catalogue, adding more product versions and configurations, making it easier for engineers to configure, download and purchase the components they require.
Should you need any further support, do not hesitate to contact our Sales Team.
Enjoy your surfing!