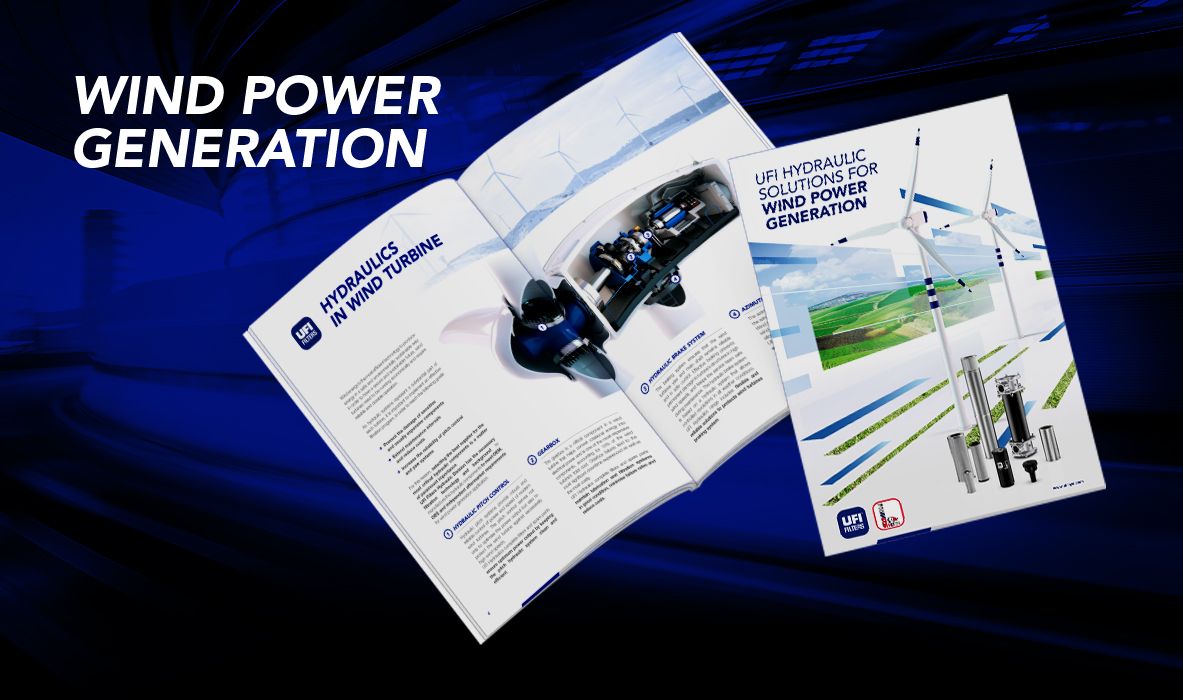 The new brochure dedicated to UFI Hydraulic Solutions for Wind Power Generation is available online, in the download section of the Hydraulic Division website
UFI Filters Hydraulic Division, thanks to more than 25 years of experience in hydraulic filtration, guarantees the necessary filtration technology and background to manufacture complete filters, spare parts and accessories specifically designed for the Wind Power Generation industry, in order to meet the most demanding OEM, OES and independent aftermarket requirements.
Reliable products for the most demanding operating environment
Wind energy is the most efficient technology to produce energy in a safe and environmentally sustainable way. In order to have a secure and sustainable future, wind turbines need to be running economical and require reliable and durable operation.
Since hydraulic systems represent a substantial part of each turbine, it is important to implement an effective filtration program, in order to reach the following goals:
preventing the damage of sensitive, and usually expensive, components
extending maintenance intervals and reduce costs
increasing the reliability of pitch control and yaw systems
For these reasons, selecting the best supplier for the most critical hydraulic components is a matter of paramount importance.
UFI solutions for Wind Power Generation offer definite and reliable performance, that are considered strategic features when the machines involved in the maintenance operate in particularly contaminated contexts and difficult environmental conditions.
UFI Hydraulics components are designed to be compact, lightweight and easily serviced, yet providing at the same time exceptional service life to work properly in the most demanding of operating environments.
Optimal wind turbine protection
UFI Filters Hydraulics offers well-engineered solutions to protect wind turbines by helping to avoid malfunctions and the fallout of control devices. UFI Filters Hydraulics products allow to win more productive power from a renewable energy source, as well on-shore as off-shore and even under adverse weather conditions, by ensuring the permanent and failure-free operations.
The proper maintenance and the accurate cleanliness of the hydraulic systems are key factors in achieving the best performance of a wind turbine while reducing the maintenance and running costs.
UFI Hydraulic solutions for Wind Power Generation ensure:
High degree of filtration
Extended filter life
Longer service interval
High reliability
Wide range of tailor-made solutions
Moreover, all UFI Filters Hydraulics elements are made with FORMULA.UFI media, in order to provide high levels of fluid cleanliness while maintaining low pressure drop characteristics.
Wind Power Generation Brochure available online
The specific brochure that illustrates in detail UFI Filters Hydraulics products dedicated to Wind Power Generation is available in the DOWNLOAD section of our website.
Download directly the new brochure: click here.
In order to select the best product for your specific wind application, please contact our Staff, that remains available for any technical support and any further information.