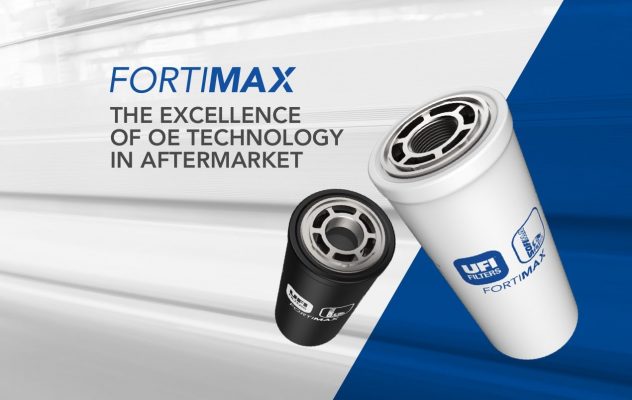 The new FORTIMAX high pressure spin-on series of the Hydraulic Division of UFI Filters Group represents the excellence of OE technology for the aftermarket
Globalisation and the highly competitive environment we live in generates high pressure for manufacturers. The temptation to cut costs and the under estimate the importance of genuine hydraulic filter elements poses a real risk to manufacturing efficiency and productivity.
When the time comes to replace your hydraulic filter elements, don't compromise on quality
The difference between UFI parts and other "will fit" parts goes well beyond price and becomes a question of quality, confidence and the available level of "fallback" and support provided by a reputable filter manufacturer.
UFI Hydraulic Filter Elements are made from the highest quality materials. Others may offer interchangeable filter elements, but "under the skin" they are not the same.
It's what you don't see that may cost you dearly!
UFI Filters possess the necessary filtration technology and background to manufacture "Alternative" filter elements to meet OE, OES and independent aftermarket requirements. In doing so, these filter-elements are subjected to the same rigorous test regime as proprietary product.
This ensures at the very least a like-for-like performance with the competitive original, which is an important detail where OE branding of the alternative element is undertaken.
In many cases, UFI alternative elements even exceed the performance characteristics of the original.
FORTIMAX high pressure spin-on series
The FORTIMAX series completes the spin-on families of the UFI Hydraulics range, which includes filters and elements for hydraulic systems on suction, return and pressure lines, with filtration from 25 microns up to 5 absolute microns and flow rates up to at 300 l/min. The main feature of spin-on filters is the easy and rapid replacement of the used cartridge and is strategic when the machines involved in the maintenance operate in particularly contaminated contexts and difficult environmental conditions.
UFI Filters alternative filter elements offer definite and reliable performance. Thanks to the quality of the media, UFI Filters spin-on ensures high efficiency and greater storage capacity than similar products on the market.
Please check our Cross Reference online to find UFI FILTERMAX equivalent part number among more than 4.000 references of OBEs, as AGCO, ARGO, ATLAS, BELL, BOBCAT,BOMAG, BOMBARDIER, BOSCH REXROTH, BUSSE & KUNTZE, CARRARO, CASE, CATERPILLAR, CLAAS, CUMMINS, DANA, DEUTZ-FAHR,DOOSAN, EATON, HYUNDAI CONSTRUCTION, JCB, JOHN DEERE, KOMATSU, KUBOTA, LAVERDA, LEKANG, LIEBHERR, LINDE, MANITOU, NEW HOLLAND, TOYOTA, VOLVO, ZF, and of competitors', as BALDWIN, DONALDSON, F.B.O., FAI FILTRI, FILTREC, FLEETGUARD, HIFI, IKRON, MAHLE, SF-FILTER,WIX.
FORTIMAX new catalogue
The new catalogue of FORTIMAX series is available in the DOWNLOAD section, that will be very soon enriched with specific brochure dedicated to wind power and agricultural filter elements.
Enjoy your surfing!