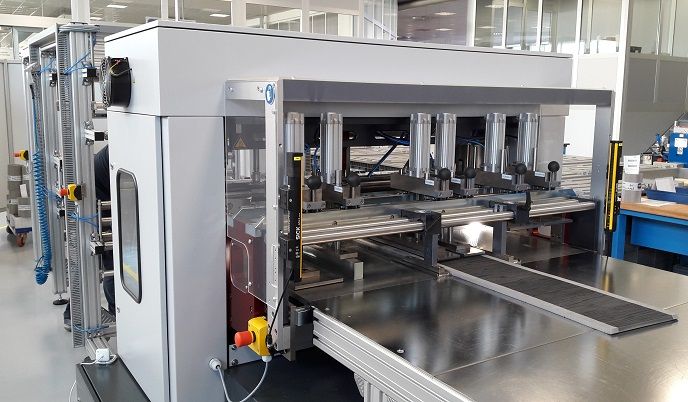 2019 is proving again to be a year of strong investments for UFI Hydraulic Division, especially regarding the production machines, with the aim to confirm the outstanding long-term performance, products quality and capacity.
Customer demand for higher quality and output have led UFI to purchase the latest high end pleater generation, fully automatic and digitally computer numerical controlled.
The new Digital CNC Blade pleating machine ensures more flexibility, in terms of pleat height, material width and material types, from very delicate to heavy materials, and provides constant output for even the most demanding applications. 
This state-of-the-art pleating machinery offers an enormous pleat height range and nearly endless material configurations, together with the highest pleat quality and heat-setting properties. This means that UFI Hydraulic Division will be easily able to adapt to the next generation of filtration materials and to the evolution of the applications.
In addition, the specific parameters of each UFI pleated media will be memorized and loaded to automatically setup the pleater and to manufacture reproducible high quality. It means fast reaction on our customers and market demands.
Another significant parameter on our new machine is the energy saving, as UFI Hydraulic Division has chosen to lower the environmental impacts of its activities, and systematically seek improvement in a coherent, effective and sustainable way.
Thanks to the use of state-of-the-art hardware, up to an impressive 80% energy saving compared with a fully mechanical pleat machine is expected!
This addition confirms UFI focus on designing and manufacturing the highest quality pleated media, in order to provide our customers with constant output for even the most demanding applications.