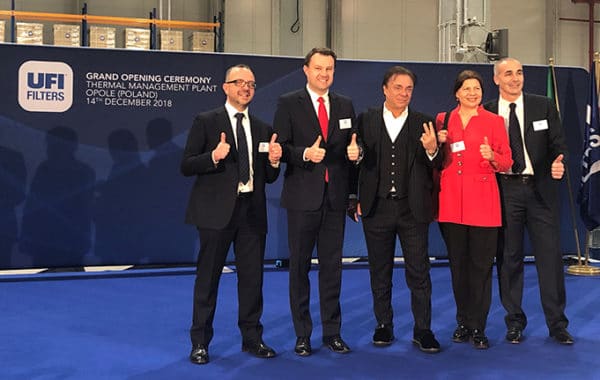 UFI Filters inaugurates a new high tech manufacturing plant in Opole, Poland, that will double the company's global production capacity for heat exchangers, made in Europe, by 2023, with 250 new employees within five years.
The plant, with its initial 6,000 m2 of space and a capacity of one million parts per year, is set to expand to 12,000 m2 and brings significant economic benefits to the region, representing a total investment of 42 million PLN (around 10 million Euros).
The site is UFI's first factory outside China to manufacture heat exchangers. It is located close to UFI's sister factory in Ostrava (Czech Republic), allowing a rapid service between the two premises.
The advanced OE heat exchangers are designed for different markets, including automotive, heavy-duty trucks, tractors and construction equipment (on- and off-road), as well as hybrid, full electric and fuel cell vehicles prepared for future powertrain and e-mobility.
Company's 'local-to-local' OEM service strategy, responding to future powertrain needs