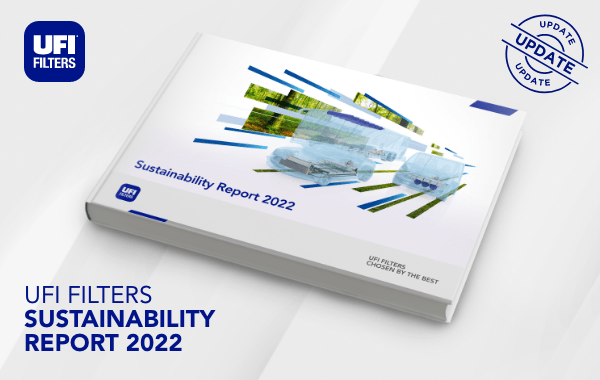 UFI Filters Group has published its Sustainability Report for the year 2022 as an integral part of the Company's sustainability management model
Nowadays, the concepts of sustainability and innovation are inseparable. They go hand in hand, and it is impossible to consider one without the other.
For this reason, following on from its first report last year, UFI Filters is publishing its second Sustainability Report for the year 2022, as testament of its commitment to transparency and corporate social responsibility.
The report has been prepared in accordance with the Global Reporting Initiative (GRI) standards, the most widely used standards in the world for the voluntary reporting of economic, environmental and social performance.
The 2022 Sustainability Report is focused on UFI Filters' ESG (Environmental, Social and Governance) strategies and achievements.
This year, with a view to greater transparency for UFI Filters, external auditors were engaged to undertake a limited assurance engagement of the new edition of the Sustainability Report, confirming our growing commitment to promoting continuous improvement in corporate ethics.
The UFI Group's corporate ethics, based on mutual respect, starts from within the Company and is reflected in all its external relationships, with customers as well as suppliers.
The collected data present a detailed picture of the environmental, social and governance commitments and results over the period from the 1st of January to the 31st of December 2022.
The report opens with an overview of the UFI Group which, after fifty years of activity, is a proven global player, constantly committed to realizing solutions that guarantee the utmost respect for the environment, providing technologically advanced systems capable of reducing energy consumption and CO2 emissions.
The Sustainability Report also provides an overview of the governance and compliance of UFI Group. A key focus is UFI people, because it is the employees themselves who have been the driving force behind UFI's success throughout its history.
In his letter to stakeholders, UFI Filters Group President Giorgio Girondi states "UFI, at the forefront of technological innovation, pledges to be sustainable and to rely solely on sustainable suppliers. Our industrial site in Jiaxing China is 100% dedicated to sustainability and green technologies. UFI is GREEN."
Visit our Sustainability web page by clicking here or download the complete Sustainability Report.
Please contact our sales team for any further information.