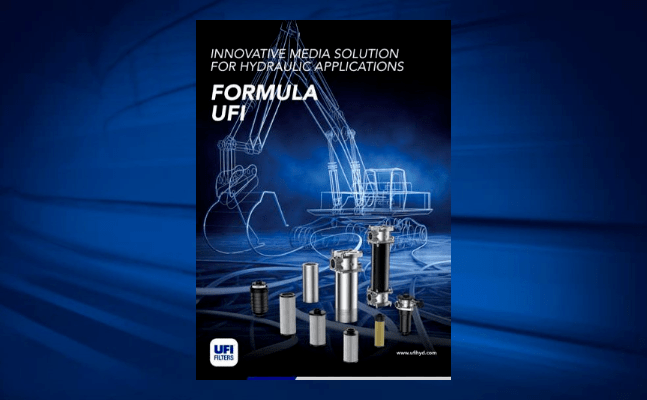 FormulaUFI is the brand that embodies the secrets of UFI Filters filtration, with a new dedicated brochure available in the DOWNLOAD section
UFI Filters, leader in the filtration and in the production of heat exchangers for combustion, electric and hybrid vehicles thanks to constant investment in R&D, has over twenty years' experience in the production of filtration materials.
FormulaUFI is the brand name that encompasses all the company's filtration expertise and the name given to the filter materials that have been selected and developed in the UFI Innovation Centres worldwide. The brand consists of 6 different material formulas, engineered to satisfy the most challenging filtration needs, both for automotive and hydraulic applications.
The FormulaUFI range
The FormulaUFI range represents the best filtration formulas, covering every kind of media:
FormulaUFI.Extreme
FormulaUFI.Stratiflex
FormulaUFI.Micron
FormulaUFI.Web
FormulaUFI.H2O
FormulaUFI.Cell
FormulaUFI can be customised according to the specifications of the specific application, whether cars, heavy duty, industrial or hydraulic, and cover the entire filtration range – fuel, air, oil, cabin and hydraulics.
Rinaldo Facchini, CEO of the UFI Filters Group, says: "For 50 years, UFI Filters has been making filtration history with its breakthrough products and filter media. It started off with engine air and fuel filtration and it is now one of the only companies in Europe able to produce and supply complete filtration systems for both conventional and hybrid engines, including filter media and heat exchangers. Our 'FormulaUFI' expertise can be tailored to meet the technical specifications required by Original Equipment; 'FormulaUFI' filtration is also at the heart of the products which are available in our Aftermarket catalogue."
Innovative media solutions for hydraulic applications
Let's review together a brief description of each innovative media.
FormulaUFI.EXTREME
This is the name of the filter media capable of extreme performance, even under the most tough conditions. This medium is used for example for extreme conditions in agricultural applications, is based on synthetic fibers to maximise the filter life, to reduce pressure drop keeping high filtration efficiency.
FormulaUFI.STRATIFLEX
The most revolutionary formula developed by UFI Filters is a stratified combination of various materials such as cellulose, glass fibre and hydrophobic fabrics. This medium is used for example in the CNH Cursor Engine Family, guarantees the achievement of unique filtration efficiency together with a long filter life and water separation from fluid.
FormulaUFI.MICRON
This is the filter media consisting of inorganic fiber impregnated with resins and consists of multiple layers, up to 6. This medium is used e.g. in wind power generation and industry applications, provides first class filtration efficiency and low differential pressure drop over the whole lifetime of the element and is available in 5, 7, 12, 16 and 21 µm(c). FormulaUFI.Micron with multilayer structure retains even smallest particles, more than reported on the reference ratio of each filter media.
FormulaUFI.WEB
This filter consists of a wire mesh which blocks impurities, as in the automatic transmission system for ZF and in pressure line as "last chance" filter and provides protection to sensitive and critical components, e.g. in the Danfoss Hydraulic Integrated Circuit and in the Carraro "Specialty tractors" as protection of the hydraulic power lift. The steel wire mesh is solid and resistant and is compatible with high temperature fluids. It guarantees low pressure drops for high flow rates and is therefore suitable for even the most extreme conditions.
FormulaUFI.H2O
This filter material has a high water absorption capacity thanks to its super-absorbent polymer technology and removes up to 80% of the free water present in the oil. This medium is used for e.g. in off-line filters or in mobile filtration units. It works by absorption and ensures the highest water retention capacity in all applications subject to water seepage.
FormulaUFI.CELL
The basic formula for filtration comes directly from nature. This filter material is based on paper fibers made from pure cellulose impregnated with resin to maximize the filter life and reduce pressure drop. Cellulose provides effective filtration for a variety of hydraulic applications, like concrete pumps and mining vehicles. It is also used for airbreathers, return line filters and spin-on cartridges, in which a good quality to price ratio should be recommended.
The new brochure available online
The specific brochure that illustrates in detail UFI Filters media is available in the DOWNLOAD section.
To download the new brochure click here.
Our Staff is available for further information and to support all customers in the selection of the best FormulaUFI for each specific system and application.