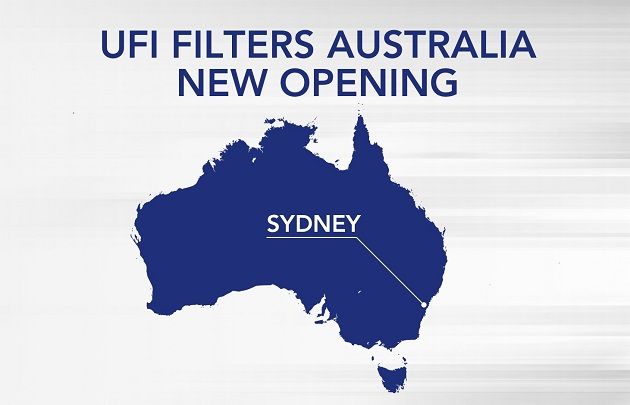 UFI Filters opens its new premises in the 5th Continent, UFI FILTERS AUSTRALIA, to expand the global Aftermarket business
UFI Filters, a leader in the filtration market, that in recent years has also become an important manufacturer of heat exchangers for combustion, electric and hybrid vehicles, is opening a new sales office in Australia. UFI FILTERS Australia Pty Ltd, settled in Sydney, is the company's  57th global sales office.
This is an important milestone for the Group, which this year celebrates its 50th anniversary. The initial goal of UFI Filters Australia Pty Ltd will be the development of the Aftermarket for light, heavy and off-road vehicles in Australia, as well as becoming the reference point for the hydraulic market.  Moreover, UFI Filters Australia will very soon be a launch pad for other markets such as neighbouring New Zealand.
Synergy and localisation
Synergy and localisation represent two keywords within the success story of the UFI Group, which started in Italy in 1971 and continues with a steady global expansion.
This global expansion has resulted in UFI Filters becoming one of the world leaders in filtration and thermal management with 19 industrial sites, 3 innovation centres, and 57 commercial offices around the world, with over 4,000 employees.
Sharing as a vital force within the Group
Over the years, UFI Filters has been able to operate in perfect harmony with the cultures of every country, and, at the same time, promote local resources and skills.
Sharing professionalism, experience and skills between the Hydraulic Division and the local site of the UFI Group in Australia will provide the opportunity to:
understand even more deeply the specific requests of the local market regarding all hydraulic applications
implement solutions that meet hydraulic filtration needs of both OEMs and the local Aftermarket
contribute effectively to local growth of hydraulic market in Oceania and develop customised filtration solutions for the most demanding systems
Rinaldo Facchini, CEO of the UFI Filters Group, comments: "The presence of UFI Filters on the 5th continent is an important milestone for the company in the development of its worldwide business. Australia and neighbouring New Zealand are areas with great Aftermarket potential. Our Group can make a fundamental contribution with cutting-edge technologies for light vehicles and Heavy Duty, both for commercial and industrial applications such as agriculture, earthmoving and mining. This is just the first step of our journey to provide our technologies to other sectors in the near future."
Contact the New UFI Filters premises in Australia
UFI FILTERS AUSTRALIA PTY LTD team will be glad to show you our existing solutions for the most important hydraulic sectors or to evaluate your specific needs in order to find a tailored solution that will perfectly meet your requirements:
UFI FILTERS AUSTRALIA PTY LTD – Level 10, 171 clarence Street, 2000 Sydney (NSW) – Tel. +61 (0) 424 497 880
Click here for the complete list of UFI Hydraulic distributors in the world or send an email to our Staff to receive any additional information or support.