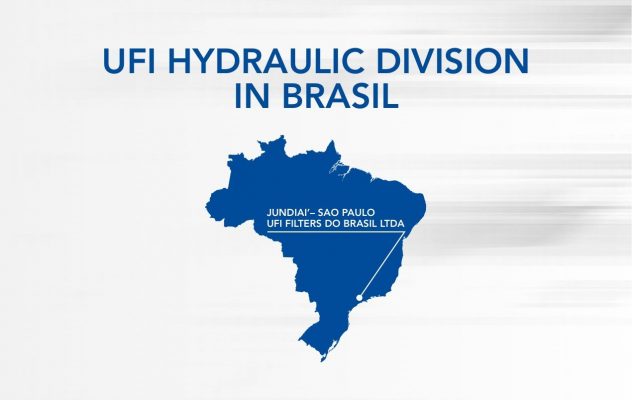 The South American branch of the UFI Filters Group, the Italian multinational among the world's leading producers of filters and filtration solutions, will distribute the products of the UFI Hydraulic Division range in Brazil.
UFI FILTERS DO BRASIL LTDA, the industrial and commercial site for South America located in Jundiaí, in the state of Sao Paulo, responded to the primary need to be close to the factories of car manufacturers, to supply them "just in time" and initially produced the filters for oil, intended to equip diesel engines produced by General Motors in Brazil. In 2019, UFI Group launched the Aftermarket range in Brazil.
The Brazilian branch of UFI FIlters will also distribute hydraulic products, both for the OE and Aftermarket markets.
Synergy and localisation
Synergy and localisation represent two keywords within the success story of the UFI Group, which started in Italy in 1971 and continues with a steady global expansion.
This global expansion has resulted in UFI Filters becoming one of the world leaders in filtration and thermal management with 19 industrial sites, 3 innovation centres, and 56 commercial offices around the world.
Thanks to this combination, starting from this year, UFI FILTERS DO BRASIL LTDA, in addition to its current role of commercial office of the UFI Group in Brazil, dedicated to OEM and IAM, as well as Aftermarket Logistic Hub for South America, will deal with the distribution of UFI hydraulic products.
Sharing as a vital force within the GROUP
Sharing professionalism, experience and skills between the Hydraulic Division and the local site of the UFI Group in South America provides the opportunity to:
understand even more deeply the specific requests of the local market regarding all hydraulic applications
implement solutions that meet hydraulic filtration needs of both OEMs and the local Aftermarket
contribute effectively to local growth of hydraulic market
develop customised filtration solutions for the most demanding systems
UFI Groups position of leadership in the filtration sector stems from the perfect union of technology, innovation, performance, and, above all, from the unique ability to enhance the synergies between the various Companies in the Group. Over the years, UFI FILTERS has been able to operate in perfect harmony with the cultures of every country, and, at the same time, promote local resources and skills.
Contact the New UFI Hydraulic Distributor for South America
UFI FILTERS DO BRASIL LTDA team will be glad to show you our existing solutions for the most important hydraulic sectors or to evaluate your specific needs in order to find a tailored solution that will perfectly meet your requirements:
UFI FILTERS DO BRASIL LTDA – Av. Prefeito Luis Latorre, 9450 Galpão 15 – Distrito Industrial Jundiaí – São Paulo Zipcode: 13209-430 Brasil – Tel. +55 11 2923-6554
Click here for the complete list of UFI Hydraulic distributors in the world.
Enjoy your surfing!