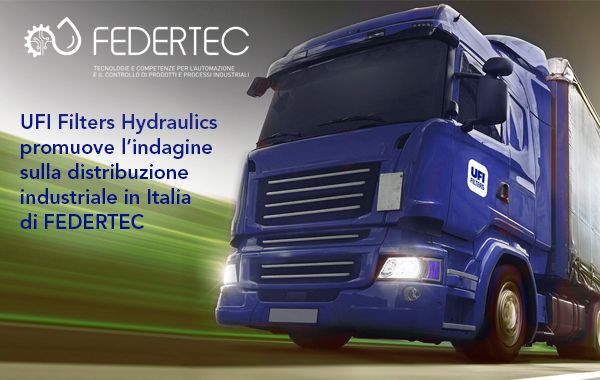 FEDERTEC involved its associates, UFI Filters Hydraulics included, in promoting the first survey on industrial distribution in Italy with the aim of networking, promoting development and expanding opportunities and skills
Association, network, opportunities, collaboration, skills are some of the main keywords emerged during the FEDERTEC Annual Assembly, that took place last June 28 at the DALLARA Academy, which saw UFI Filters Hydraulics among the main sponsors in its 30th year of activity.
The FEDERTEC Annual Assembly has been an important opportunity to share the initiatives carried out and the activities planned to support the whole sector. Starting from this year, in addition to ASSOFLUID and ASSIOT, FEDERTEC incorporates also FNDI National Federation of Industrial Distribution, adding a new piece to the chain of mechatronic technologies.
SYNERGIES ALONG THE ENTIRE INDUSTRIAL CHAIN
The presence of a group of industrial distribution companies in FEDERTEC confirms one of the association's key principles: creating synergies along the entire industrial chain, from production to the end customer, to encourage common growth.
The first step to foster synergy and growth is, without any doubt, the knowledge: for this reason UFI Filters Hydraulics has become one of the main promoters of the survey on industrial distribution in Italy among the major representatives of the distribution chain in the hydraulic sector.
The companies associated with FEDERTEC represent the best of the fluid power industry, therefore UFI Filters Hydraulics, which for almost thirty years has also contributed operationally to the associative objectives thanks to the sharing of data and the development of various initiatives to support the entire sector, decided to promote this important initiative through an ad hoc communication campaign.
The collection of statistical data is fundamental to provide an articulated and comprehensive picture on the development strategies of industrial distribution in Italy, therefore, we invite all those who have not received our invitation to take a few minutes to fill in a short online questionnaire at the following link.
The new market scenarios make it essential to seize the opportunity to "network" to face these continuous evolutions together.
The survey carried out by FEDERTEC is a fundamental opportunity to map the Italian Industrial Distribution and increase synergies, data and knowledge.
Each survey participant, as acknowledgement of this important contribution, will receive a free copy of the final report.
To stay up to date on all our initiatives, activities and news, we remind you that you can register for our monthly UFI HYDRAULICS TODAY newsletter by filling out the appropriate form, at the bottom of this page.