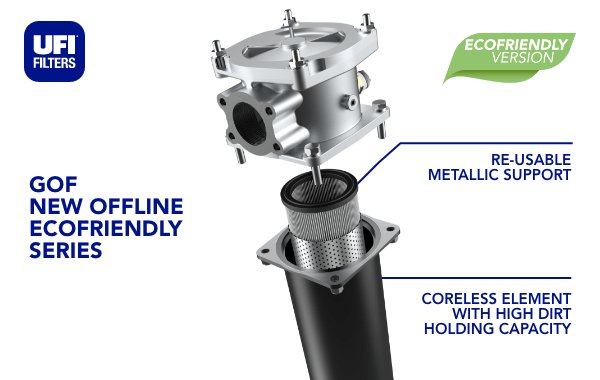 The catalogue of UFI Filters Hydraulics now includes the GOF series, an ecofriendly version of FOF standard series for off-line filtration applications with coreless element
The GOF series is the ecofriendly solution from UFI Hydraulics for the off-line filtration of several hydraulic applications, in both the stationary and mobile sectors.
The GOF design aligns with our corporate values of sustainability, as widely illustrated in the company's Sustainability Report.
Are you looking for an ecofriendly alternative for your off-line filtration?
The filter element presents a coreless structure and is engineered to meet the most demanding requirements in terms of respecting the environment and reducing the number of polluting components in the hydraulic system.
This ecofriendly layout allows the replacement of the filter media only, eliminating the internal metal support, thus reducing materials waste.
The GOF series products are available in two different sizes, with 2 to 2 1/2 inch flange connections, both in line and in-to-out 180° opposite.
The coreless filter element is available with FormulaUFI.MICRON, with a filtration rating from 3 to 30 micron and a collapse differential pressure up to 1 MPa (10 bar).
In addition, the complete filter can be customized with additional accessories, such as a magnetic core,  mounting brackets and a wide range of differential clogging indicators.
Explore all the features and available versions of the GOF series online now.
The GOF catalogue includes maintenance instructions 
Changing your hydraulic filter element regularly is part of good system maintenance and is becoming an increasingly important and strategic activity.
To support its customers in this important task, UFI Filters Hydraulics have included the maintenance instructions in the catalogue.
The catalogue section dedicated to maintenance illustrates in a very straightforward way the step-by-step procedure for the correct replacement of the ecofriendly filter element, which involves reusing the metallic support outside the element and replacing only the inner filter media.  
The catalogue includes the render of the GOF filter highlighting all the components involved in the maintenance operations.
Contact our team if you have any questions or need further clarification.