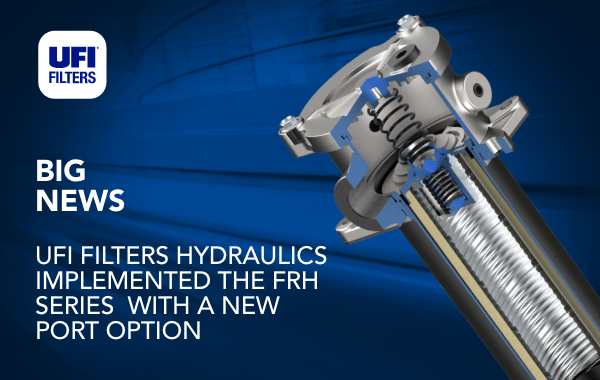 A new port option is now available for the FRH series, which is widely used in the American market
This additional port option for the FRH tank-top return filter series offers greater flexibility and further expands the range of possible applications.
In particular, FRH filters are widely used in the hydraulic circuits of agricultural machines, street sweepers and ecological compactors, and are of interest wherever more than one return line is used.
Main features of the FRH series
The FRH head and cover are made from aluminium and are specifically designed for installation on the top of the hydraulic tank (tank-top).
They are suitable for operating pressures up to 300 kPa (3 bar) and flowrates up to 200 l/min.
The FRH Filters are the last element in the hydraulic circuit upstream of the hydraulic tank, where they clean the returning hydraulic fluid before it is fed back into the tank.
The FRH series is available
in two sizes and various lengths
with threaded ports (BSP or NPT) or flange ports (SAE) from ¾″ to 1½″
with a bypass valve with 1.7 bar cracking pressure
with high efficiency FormulaUFI.MICRON, microfibre filter elements from 5 to 21 µm(c) (βx(c) > 1000)
with FormulaUFI.CELL cellulose filter elements 10 or 25 µm (βx(c) > 2
with FormulaUFI.WEB, wire mesh filter elements from 60 to 250 µm
with or without a clogging indicator (electrical pressure switch or pressure gauge)
with or without a filling plug
Special configuration for American applications
The FRH series is available in different dimensions and with several connection options, including a double port configuration that can be used in the case of multiple circuits or multiple return lines.
Connecting a circuit to a filter instead of a manifold results in significant savings in terms of piping and components, as well as a reduced risk of back pressure.
In particular, the new double port option, specifically designed for the size 4 FRH filter, features two 1¼″ NPT connections, which are widely used in the Americas.
FRH filters are designed to be flange-mounted on the tank cover; both NPT threaded ports for the inlet connections are positioned on the filter head and are therefore easily accessible.
Furthermore, the inspection cover, which is fixed with four screws, allows easy maintenance.
Download the updated FRH series catalogue now!
Our Sales team is available if you need any additional information.