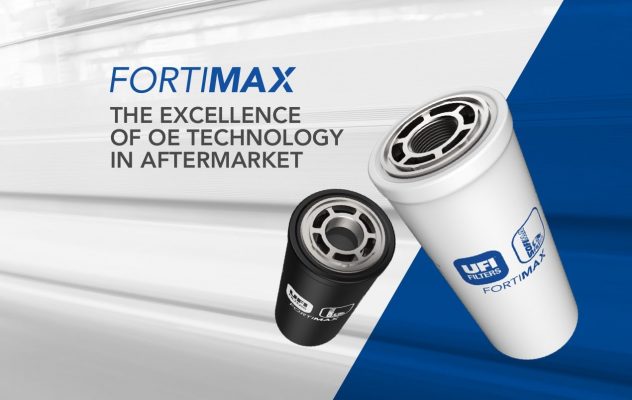 In order to meet the customers' needs, UFI Filters Hydraulics increases the stock of FORTIMAX high pressure spin-on filters, now available for fast deliveries from Italy.
The FORTIMAX elements, that are mounted also in the FPO series, complete the spin-on families already present in the UFI Hydraulics range, which includes complete filters and elements for hydraulic systems on suction, return and pressure lines, with filtration from 90 microns up to 5 absolute microns and flow rates up to at 300 l/min.
Features and benefits of the FORTIMAX high pressure spin-on filters series
In particular, FORTIMAX high pressure spin-on series are typically mounted in-line and can be used on hydraulic circuits with maximum working pressure up to 35 bar and flow rates up to 200 l/min.
Compact design and quality construction make this range of spin-on filters suitable for mobile, industrial and agricultural equipment.
The FORTIMAX filter elements are available in FormulaUFI.MICRON (fiberglass) and FormulaUFI.CELL (resin impregnated cellulose), with a filtration degree from 5 to 25 microns. FORTIMAX high pressure spin-on series offer definite and reliable performance. Thanks to the quality of the Formula.UFI media, FORTIMAX spin-on elements ensure high efficiency and greater storage capacity than similar products on the market.
FORTIMAX high-pressure spin-on series ideal also for aftermarket
FORTIMAX series meet OE, OES and independent aftermarket requirements, thanks to UFI Filters filtration technology and manufacturing background.
All UFI filters are subjected to a rigorous test regime and this ensures an excellent performance compared to many Competitors' elements: check our Cross Reference online to find the FORTIMAX high-pressure spin-on filters equivalent part numbers or download the FORTIMAX brochure to verify the complete high pressure spin-on elements range.
Contact our Customer Service for more information!