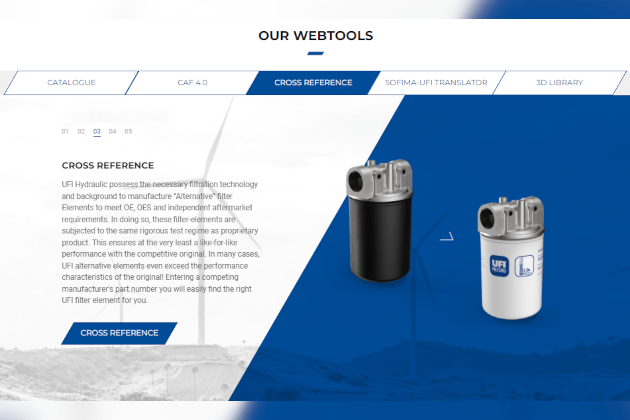 2022 started with a further release of UFI Filters Hydraulics Cross Reference updated with 3,000 new matches
UFI Filters Hydraulics manufactures replacement filters for many other high-end brands including Baldwin, Donaldson, Filtrec, Hydac, MP Filtri, Pall, Parker, etc. Thanks to this further update, we cross-reference more than 34,000 part numbers from filter companies and OEMs.
UFI Hydraulics expertise provides field-tested products and services designed to meet standard or custom needs.
The importance of remaining "genuine", even when manufacturing alternative filter elements
This important outcome was possible thanks to the trust placed in the UFI Filters Hydraulic Division, globally recognised as a filtration specialist, by our valued customers. After testing the quality of our genuine catalogue products, the customers are increasingly asking for UFI Filters Hydraulics alternative filter elements to those currently in use for their applications.
The main reasons that make UFI Filters Hydraulics a reliable supplier not only for OE but also for spare parts are:
the excellent performance of FORMULA.UFI media
the wide range of alternative filter elements
the support of our Sales and Technical Team in the selection of the best solution for a specific application
UFI Filters Hydraulics possesses the necessary filtration technology and background to manufacture alternative filter elements to meet OEM, OES and independent aftermarket requirements. In doing so, interchangeable filter elements are subjected to the same rigorous test regime as proprietary products, ensuring the same like-for-like performance with the original. In many applications, UFI Filters Hydraulics alternative elements even exceed the performance of the original part number.
Frequently Asked Questions regarding UFI Filters Hydraulics Cross Reference
Q: If I cannot find the cross reference that I am looking for online, where can I go for further help?
A: You can send an email to our Staff and ask for further support.
Q: Where can I buy UFI Filters Hydraulics elements?
A: UFI alternative elements are available through our network of distributors. You can find the nearest retailer by clicking here.
Q: If I need more specific information on an alternative part number, where can I get it?
A: You can contact our Staff, they will send you any additional information and the specific data sheets.   
Q: If I find an alternative element in a different rating from the one I need, is it possible for UFI Filters Hydraulics to produce the exact required version?
A: Specific requests are always welcome. Thanks to our wide range of filter media we can produce each filter element according to any specific rating requirement.
For further details or in case you need any help to evaluate the best solution for your application, please contact our Staff; or start to surf our cross references directly by clicking here.