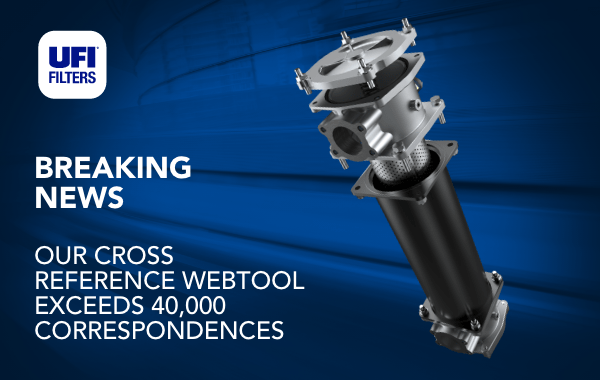 UFI Filters Hydraulics further expands Cross Reference, one of its most well-used and appreciated webtools
UFI Filters Hydraulics Cross Reference is continuously updated and now includes almost 5,300 part numbers that provide more than 40,000 matches, including both competitor filter elements and original equipment (OE) spare parts.
This update emphasizes UFI Filters Hydraulics' strengthened commitment to providing the best filtration solutions for every requirement and application.
Optimized performance, rigorous standards
All UFI Filters Hydraulics elements, whether original or replacement, are manufactured with the state-of-the-art FormulaUFI media, selected by UFI Filters Group.
The use of this advanced media guarantees excellent fluid cleanliness while maintaining low pressure drop characteristics, promoting optimal hydraulic system performance.
Every UFI Hydraulics filter element undergoes a rigorous manufacturing and testing process to ensure that it meets the highest OE standards and aftermarket requirements.
This meticulous attention to quality guarantees consistent reliability across a wide range of applications.
Your partner in finding the best filtration solutions
Although our online database is regularly updated, the UFI Filters Hydraulics product line is constantly expanding, so it is possible that a specific search may not yield a result.
In these cases, please contact our dedicated sales team, who are ready to help you find the ideal filtration solution to meet your specific needs and keep your hydraulic systems operating at peak efficiency.
Explore the updated Cross Reference webtool, and experience the seamless integration of state-of-the-art filtration solutions from UFI Filters Hydraulics into your system.
Your journey to performance optimization for your hydraulic system begins here.