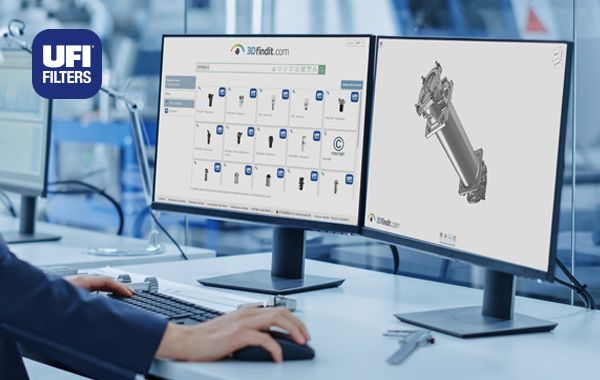 The UFI Filters Hydraulics 3D models, developed with CADENAS technology, available also on the 3Dfindit.com portal, is now integrated directly into KeyCreator
Thanks to the collaboration with CADENAS, users of KeyCreator, a CAD / CAM system developed by the American company Kubotek3D, can now access a huge selection of 3D and 2D component geometries from 3Dfindit.com, the technical search engine powered by CADENAS for mechanical and production design, that includes also the UFI Filters Hydraulics 3D Library.
Engineers, technicians and purchasing managers around the world use the 3Dfindit.com search engine to find and download millions of manufacturer-verified BIM and 3D CAD models, with over 600 million downloads each year.
Thanks to a function integrated in KeyCreator, the 3D and 2D models of UFI Filters Hydraulics, which can be downloaded directly from the website of the UFI Group's Hydraulics Division and from the CADENAS portals, are now available for download directly in an active KeyCreator session.
Main benefits of the integration into KeyCreator
The integration of 3Dfindit.com within KeyCreator allows designers and engineers to search for components in an extremely intuitive way, such as 3D Shape Search, Sketch Search, Color Search or Topology Search.
The direct and free access to thousands of CAD catalogs, including the UFI Filters Hydraulics 3D models, allows designers and engineers to:
significantly save search time
increase the efficiency of the design, thus accelerating the process
reduce the time-to-market
UFI Filters Hydraulics 3D Library in numbers
Designers and engineers using KeyCreator will therefore have access to the complete UFI Filters Hydraulics 3D Library, which includes:
More than 8,000 3D models
150 available formats
2D drawings available for each code
Technical datasheet with specification of materials, flow rates, operating temperatures and applications
Direct link to the catalogue
Downloadable datasheet with 3D preview, 2D drawing and all available technical and dimensional features
The new version of the UFI Filters Hydraulics 3D Library, released at the end of last year, is even more advanced and user friendly.
The improvement of the available data and content has significantly improved the user experience as well as the research for products both within the 3D Library on UFI Hydraulics website and on the CADENAS portals.
These improvements have generated a significant increase in the number of downloads: in the first 6 months of 2022, the UFI Filters Hydraulics 3D Library recorded the same downloads as in the whole of 2021, thus doubling the number of 3D drawings downloaded each month.
The 3D Library of the UFI Filters Hydraulics is constantly updated, therefore, if you do not find the specific 3D model of the filter you are interested in or if you need any support to identify the most suitable filter solution for your system, contact our Commercial Team.