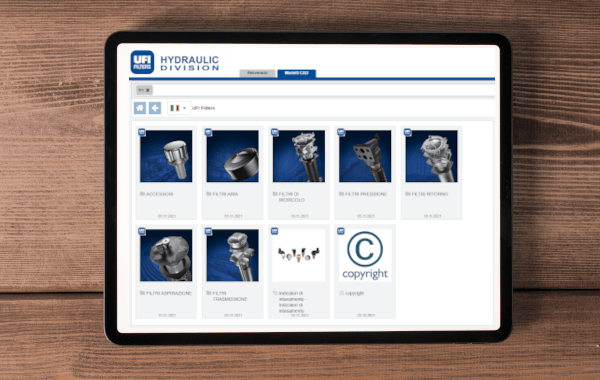 The Hydraulic Division of UFI Group is glad to present the new features of UFI Filters Hydraulics 3D library
2.700 downloads in the first half of 2022 from more than 50 countries
The 3D Library is one of the most used webtools available in UFI Hydraulics website, with 2.700 high-quality 3D drawings downloaded in 6 months, from more than 50 countries, located in 4 Continents.
The UFI Filters Hydraulics 3D library offers the drawings of the complete filters, which represents the 77% of the total downloads made in the first half, but also the 3D drawings of the accessories, such as filler caps, visual and electrical level indicators and clogging indicators, which account for the 17% of the total 3D drawings, and air filters and breathers, which represent the remaining 6%.
UFI Hydraulics 3D Library new features
Starting from September, UFI Hydraulics introduced some new important features in the 3D Library:
The most popular series of return line filters, FRA, and of the pressure line filters, FPG, have been implemented with the eCATALOGsolutions technology by CADENAS, that allows the complete configuration of the required 3D drawing according to all the features available in the catalogue
The clogging indicators section has been completed with all available models in the catalogue for suction, return, pressure, off-line and transmission applications
The 3D library and the technical documentation are now available in 3 additional languages, German, French and Spanish
3D Library main benefits
UFI Hydraulics 3D drawings and all products technical information are available from anywhere in the world with our digital product catalogue to effectively simplify as well as accelerate engineering and planning processes.
The UFI Filters Hydraulics 3D Library, in collaboration with CADENAS, offers an overview on all available catalogue's products and resources and makes this information quickly and simply downloadable from any device.
Designers and engineers of main stationary and mobile manufacturing companies can easily access online the complete UFI Filters Hydraulics 3D Library at any time of the day.
The digital product catalogue includes:
More than 10,000 3D models
150 downloadable formats
Technical datasheet with 3D preview, 2D drawing, specification of dimensions, materials, flow rates, operating temperatures and applications
Direct link to the catalogue
Moreover, the improvement of FRA and FPG 3D catalogue will significantly enhance the user experience, that will have the possibility to select any catalogue feature of the series and define a customised filter configuration for a specific application.
UFI Filters Hydraulics is continuously expanding and improving its digital parts catalogue, adding more product versions, making it easier for engineers to configure, download and purchase the components they require.
Should you need any further support, do not hesitate to contact our Sales Team.