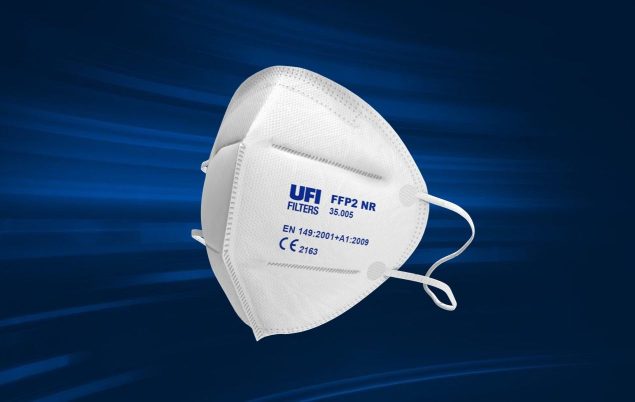 UFI FFP2 Mask Defender first in line in the fight to contain the spread of COVID
The rise of Covid cases around the world is focusing attention on good practices to contain the spread of the virus, as well as on the importance of choosing the most correct personal protective equipment.
UFI, one of the first companies in Italy to provide its contribution in the fight against COVID, continues to maintain part of its plants dedicated to the production of FFP2 UFI Mask Defender, one of the most effective personal protective equipment (PPE) currently available in the market.
Masks type: let's shed some light on this matter
In this historical period, affected by Sars-COVID-19 pandemic, personal protective equipment plays a fundamental role in reducing exposure to the virus, not only in the healthcare environment but also at  home or in public and working places.
Based on its experience and know-how in filtration, air filtration included, UFI would like to remind you of the main features of the masks on the market, in order to help you choose the most suitable protective device for your needs.
High Protection Face Masks (FFP) vs Surgical Face Masks
Surgical masks are disposable medical devices, made of non-woven fabric, and are generally recommended by health authorities when you need to go out for shopping, go to the pharmacy, for emergency situations and to go to work.
However, it's important to keep in mind that surgical masks have a community utility: they are effective if everyone wears them, because the filter action is mainly towards the outside.
In fact, surgical masks provide protection against the spread of viruses and bacteria by blocking the droplets of respiratory secretions, preventing other people from coming into contact with them. However, surgical masks do not protect the user against very small particles such as viruses, because they don't adhere completely to the face and don't retain fine particles. They are therefore not considered PPE as they protect people around us from contagion, but don't protect the user from the contagion itself.
The high protection FFP masks, on the other hand, protect both the wearer and others. For this reason, FFP masks are included among the personal protective equipment (PPE). They are divided into three protection classes FFP1, FFP2 and FPP3, according to their filtering efficiency. The most popular are the FFP2 and FFP3 versions.
They have a filtration efficiency starting from 92%, both incoming and outgoing, and are recommended for health workers, law enforcement agencies, but also for all workers and citizens who want to protect themselves in "risky" situations (eg. closed spaces, missed compliance with precautionary measures).
Which mask is better to protect yourself from the Coronavirus?
Surgical masks     
Suitable for: all people for daily use in places safe from contamination
Who is protect: they protect those around us from the virus but not the user
FFP2 and FFP3 masks     
Suitable for: healthcare workers, subjects at risk, use in contaminated places or at risk of contamination
Who is protect: They protect the user and also the people around them
FFP2 UFI MASK DEFENDER: How is it made?
FFP2 UFI MASK DEFENDER is made of four protective layers and is produced in accordance to EN 149:2001+ A1:2009 standard. The 4 filtration layers are ultrasonically welded.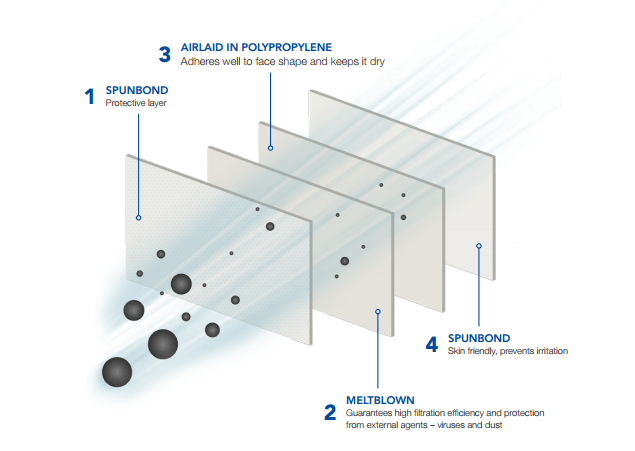 Main characteristics of FFP2 UFI MASK DEFENDER:
FILTRATION EFFICIENCY ≥ 98% @ 0.6μm, 95l/min
INHALATION RESISTANCE ≤ 2.4mbar @ 95l/min
EXHALATION RESISTANCE ≤ 3.0mbar @ 160l/min
UFI Filters masks are made using a single, 45 gr/sqm layer of meltblown non-woven fabric, a thickness which is well above the average required for products that can guarantee adequate protection (the minimum requirement is 20 gr/sqm).
FFP2 UFI MASK DEFENDER have ear holder and adjustable nose clip. They are supplied in single plastic bags to preserve the cleanliness and contamination. Each box contains 20 pieces.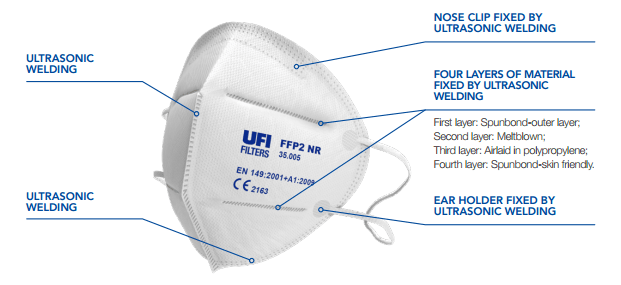 FFP2 masks must be stored in well-ventilated, dark and dry environment, away from fire and pollution. They are disposable and should be replaced every 7-8 hours of net use.
Mask comparison summary

Our Staff is available for any further information or to select with you the most correct device for your needs.