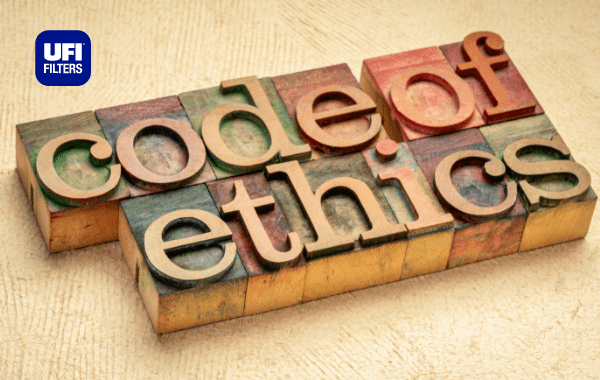 The last release of the UFI Filters Group Code of Ethics has been published in the UFI Hydraulics website
UFI Filters Group strongly believes and is committed on the application of a transparent, ethical and compliant conduct, which is essential for managing the Company's activities in a fair way.
This not only means observing the current laws and regulations, but also considering the expectations and aspirations of the various persons involved and affected by our business.
In order to foster this approach, UFI Group has implemented for years a system of Policies designed to ensure a high ethical standard.
The Code of Ethics is the cornerstone of this system, and together with the Anti-bribery Policy and the Whistleblowing Policy are considered essential for the development and dissemination of the Group's Corporate Values.
For this reason, the Group Policies are periodically refreshed: you can find the updated Code of Ethics online both in the UFI Filters website and in the UFI Filters Hydraulics one.
Moreover, to deploy and disseminate the company values, UFI Filters has also launched several internal awareness-raising initiatives through an innovative internal training campaign, with online video-training courses and tests to check everyone's learning of the basic principles in the Policies.
This is a further step in the growth of the UFI Filters Group culture to facilitate and strengthen our employee commitments to endorse these policies.
Download the updated UFI Filters Group Code of Ethics or learn more about the company values in the dedicated section on the website.