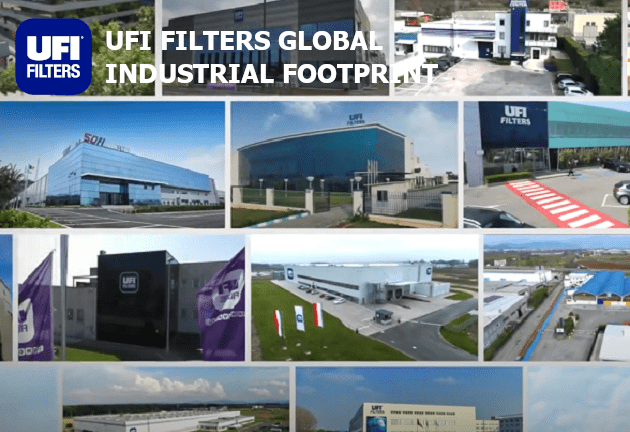 The UFI Filters Group releases a new video to illustrate an authentic story of Italian excellence with a global industrial footprint
The UFI Filters Group celebrates an important milestone this year, confirming its role as a global leader in the filtration and thermal management sectors.
The success story of UFI Filters begins in 1971 in the north of Italy and gradually spreads throughout the rest of the world, so much so that today the Group is present with 57 commercial offices in 21 countries, 19 industrial sites , 7 aftermarket logistic hubs, 3 Innovation Centres and over 4,000 employees.
The UFI Filters Group celebrates 50 years of growth, research and innovation; 50 years of values, skills and passion that UFI continues to share thanks to FormulaUFI cutting-edge technology and products.
The exciting video represents the values ​​and know-how of the Group through the life and technology of its production plants in Italy and around the world, as key levers for achieving successful goals.
The new video of the UFI FILTERS Group
The new video presents an interesting overview of the main production sites of the UFI Filters Group, starting from Italy, Nogarole Rocca – Verona, where the headquarter is located, then passing through Bolgare – Bergamo, where the Hydraulic Division is placed, Marcaria – Mantova, with the High Tech Division, and Ala – Trento, where the first Innovation Center was born.
The overview then continues in the plants opened during these 50 years of activity in 5 continents: in Europe (Czech Republic and Poland), in Asia (India, China and Korea), in Africa (Tunisia), North America (Mexico), South America (Brazil). The video presents also the main Asian Hydraulic Division plant, SOFIMA Industrial Filter located in Shanghai, China.
Sharing as a vital force within the Group
One of the main characteristics of the Group, masterfully represented in this new video, is the ability to operate in perfect harmony with the cultures of each country, and, at the same time, promote local resources and skills.
Sharing professionalism, experience and skills within the Group provides the opportunity to achieve some ambitious goals:
To understand more deeply the specific requests of the local markets
To implement innovative solutions to meet filtration needs of both OEs and the local Aftermarket
To contribute effectively to local growth of filtration market by developing customised filtration and thermal management solutions for the most demanding systems
The UFI Group's leadership in the filtration industry is built on the perfect combination of technology, innovation, performance and, above all, on the synergies among the companies of this renowned Italian Company.
Enter the world of UFI Filters and watch the new video!