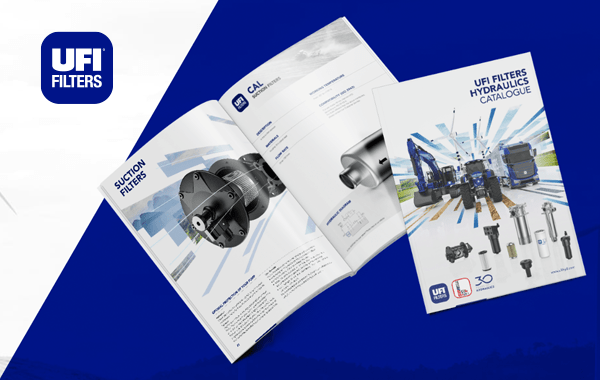 The new hydraulics catalogue is now available online, updated with all the latest products presented by UFI Filters Hydraulics at EIMA 2022
Discover the new browseable version
The new version is available in the WEBTOOL section both in the pdf version and in the brand new interactive layout, easily accessible from any digital device, that allow easy navigation through the pages.
The new UFI Filters Hydraulics catalogue has a new and captivating graphic design, in a new format that can be browsed directly online and with new series and products.
What's new?
Each section of the new catalog presents interesting news for the fluid power world.
Let's start from the chapter dedicated to suction filters, that has been completed with the FAM and MSZ series under the SOFIMA brand, already available online and now also present in the complete catalogue.
In pressure applications we find the FLA series, the last chance in-line high pressure filter, for operating pressures up to 210 bar and for flow rates up to 35 l/min.
Last chance filters help prevent sudden hydraulic system failures by providing additional system protection as they play a complementary role to the main system filters.
A post will be dedicated to the importance of last chance filtration in hydraulics in the coming months.
The section dedicated to clogging indicators has been completed with the differential clogging indicator with double setting and built-in connector, presented at EIMA. This indicator, patent granted in Italy, Europe and USA, is currently available in two different versions and offers the possibility of being calibrated, according to specific customer or application needs and requirements, even after the installation.
Moreover, each series has also been enriched with a specific section dedicated to the instructions for carrying out the maintenance of each filter in safety.
Are you looking for a green alternative for your return and off-line filtration?
Last but not least, the 2023 catalogue presents the green version of the FRF series, named GRF, and of the UOW mobile off-line filtration unit.
Both filtration systems have been designed with particular attention to the corporate values of sustainability, promoted by the vision of the UFI Filters Group and illustrated in the company's first Sustainability Report.
The filter element is engineered to meet the most demanding requirements of respect for the environment and reduction of polluting components of the hydraulic system and presents a coreless structure that allows the replacement of the filter media only, eliminating the internal metal support, thus reducing materials waste.
Explore all the features and the available versions of the coreless series directly on the new catalogue.
Ask for your paper copy
The paper copy of the 2023 catalogue will be available starting from January 2023: contact us to receive your copy.
In the meantime discover all new products online or download the pdf version.
Enjoy your surfing exploring!