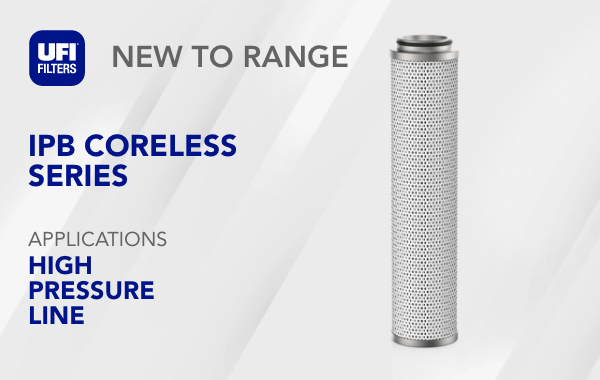 The new IPB coreless element series, made in Italy by UFI Filters Hydraulics, is used in pressure applications and is perfectly interchangeable with Parker FC7000 and with Pall HC9604 series
The IPB series is an innovative line of filter elements designed to replace the Parker and the Pall coreless elements for pressure applications, providing at the same time enhanced performance and versatility for a wide range of hydraulic systems and equipment.
Interchangeability with Parker FC7000 and Pall HC9604
The IPB Series offers seamless interchangeability with the Parker FC7000 and the Pall HC9604 model, making it an ideal upgrade or replacement option.
The UFI Filters Hydraulics design ensures correct interaction of the IPB filter element with the original Pall or Parker complete filter, enabling the element to be easily inserted on the internal support of the filter housing.
Users who are already familiar with the coreless pressure filter element, will find the transition to the IPB series smooth and effortless.
The IPB Series ensures that existing equipment utilizing the FC7000 or the HC9604 can easily be upgraded without any modifications.
The FormulaUFI media technology for the IPD coreless element
One of the standout features of the IPB series is its coreless design, that enhances the performance of the components, providing smoother and efficient operation.
The absence of a core contributes to reduce the used material and the weight of the spare element, resulting in energy efficiency and cost savings over the long term.
In addition to the coreless configuration, the new IPB series has been developed using FormulaUFI.MICRON media technology, with filtration ratings from 3 to 30 microns and collapse differential pressures of up to 1 MPa (10 bar).
Benefits of IPB coreless element series
In addition to its interchangeability and coreless element, the IPB Series offers several additional advantages:
Enhanced durability: the IPB series components are built with high quality materials, ensuring increased durability and longevity. This robust construction makes them suitable for even the most demanding applications and tough environments
Wide range of sizes and configurations: the IPB series boasts a broad range of sizes and configurations, catering to several array of application needs. From compact versions for space-restricted environments to high-dirt-holding capacity options for heavy-duty tasks, the IPB series covers a wide spectrum of requirements
Excellent performance: thanks to UFI advanced engineering and cutting-edge technology, the IPB series offers assured and reliable performance, ensuring high efficiency and smooth operation, leading to enhanced overall system productivity
Steady expansion of the Cross Reference range
The IPB series offers straight replacements for 32 elements that matches almost 250 part numbers of both competitors and OE.
Further information on the IPB series and all UFI Filters Hydraulics interchangeable elements is available on the Cross Reference online.
For any other additional information, don't hesitate to contact our sales team!