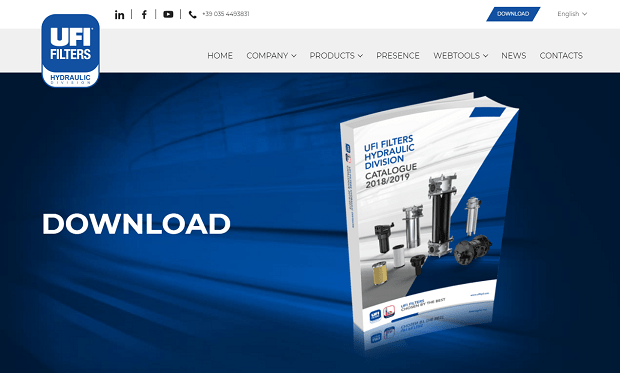 UFI Filters Hydraulic Division presents the new DOWNLOAD section with all the available files and documents of the website in one unique menu, with the aim to improve the support to customers and enhance surfing experience
Indeed, it is a further step into the direction to provide easy-to-use tools and resources also in our website.
DOWNLOAD menu allows to quickly find and easily select any PDF file of our website and provides the option to download and easily save it.
Available documents are organized and listed per following categories-:
CATALOGUES AND BROCHURES

MANUALS
QUALITY AND ENVIRONMENT
SOCIAL RESPONSIBILITY
TERMS AND CONDITIONS
Catalogues and brochures
In addition to the PDF version of UFI Filters Hydraulic Catalogue, available also in the Webtools, customers and users can download the updated UFI Filters Hydraulic Brochure, with an overview on the complete hydraulic product range that includes complete filters, grouped per application (suction, pressure, return, off-line and transmission), alternative filter elements, air filters, accessories and clogging indicators.
This section will be soon enriched with new brochures per specific applications.
As usual, the hard copy of all UFI Filters Hydraulic Division marketing supports is available on demand and can be requested to our Customer Service.
Manuals
This brand new section presents the maintenance manuals of UFI filters assemblies grouped per each hydraulic application.
To date, it includes all the handbooks for pressure filters, with detailed instruction for replacement both of filter element and accessories.
In following months all the manuals for return filters, as well as for suction filters, are going to be released.
Quality and environment
This area collects all UFI Quality System Certifications, available also in COMPANY section: ISO 9001, IATF 16949 for automotive products and ISO 14001 can be found right there.
It includes also the Company Policy, REACH and RoHS Directive and PED Directive.
Social responsibility
As UFI Filters Group is committed to fostering a corporate culture based on ethical behaviour and good corporate governance, all the companies of the Group adopt a business approach with a special focus on social and environmental impacts as well as a series of measures for the staff, the individual and collective rights and the communities. All these guidelines are described in detail in UFI Group Code Ethics and UFI Filters Anti-Bribery Policy, both available in this section.
Terms and conditions
This area contains the last version of UFI Filters Hydraulic General Conditions of Sales.
The new Download section will be continuously updated with new files and issues.
If you do not find the document you are looking for, please contact our Customer Service or Area Manager: they will be glad to provide you with the requested information!