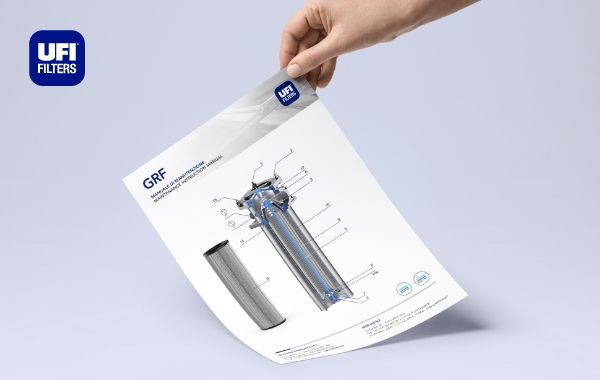 The download section of UFI Filters Hydraulics website includes the maintenance manual of the ecofriendly series GRF for return applications
The return line manuals' section has been updated with the instructions for the correct maintenance of the GRF series, in addition to all the other manuals already present in UFI Hydraulics website.
The GRF series is the UFI Hydraulics ecofriendly solution for the return line of several hydraulic applications, widely used also in the wind power generation sector.
The GRF series is designed with particular attention to the corporate values of sustainability, as widely illustrated in the company's first Sustainability Report.
The filter element is engineered to meet the most demanding requirements of respect for the environment and reduction of polluting components of the hydraulic system and presents a coreless structure.
This ecofriendly layout allows the replacement of the filter media only, eliminating the internal metal support, thus reducing materials waste.
Why regular filter maintenance is important
Changing your hydraulic filter element regularly is part of good system maintenance and is becoming an increasingly important and strategic activity to achieve the following goals:
allow the system components to operate efficiently
maintain the oil cleanliness level required by the OE manufacturer
guarantee high and steady operating performance
increase the system longevity
Unfortunately, this activity is often underestimated.
What are the main effects of non- maintenance?
The missing replacement of the filter element when necessary, can lead to unpleasant problems, such as:
damage of very expensive components inside the system, such as the pump, which involve rather high replacement costs, as well as machine and production downtime
increase in management costs due to productivity decrease
higher operating costs because of hydraulic components restoration, as, without adequate protection, early wear
The maintenance manual of the GRF series
In order to support its customers in this important activity, UFI Filters Hydraulics published the maintenance manuals of its complete range of products directly online.
Thus, the instructions to carry out the replacement of the filter element inside the filter or any accessories are accessible from any device, available 24/7.
In particular, the maintenance manuals of GRF series illustrates in a very simple way the steps for the correct replacement of the ecofriendly filter element, which involves reusing the metallic support outside the element and replacing only the inner filter media.  
The manual includes the render of the filter highlighting all the components involved in the maintenance operations.
Finally, the manual recalls the rules for the correct disposal of exhausted filter elements and replaced components, that are classified as "Special hazardous waste" and must therefore be disposed of according to local regulations by authorized companies and operators.
Contact our team in case of doubts or further clarifications.