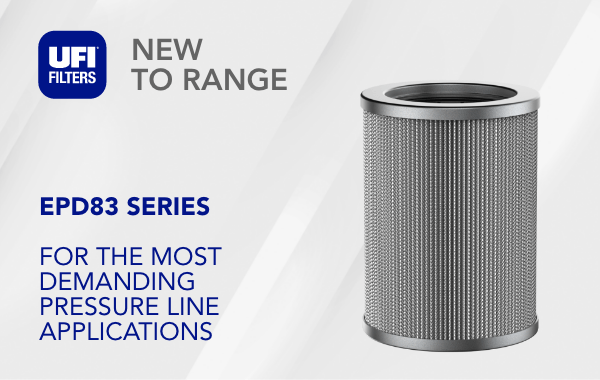 The new EPD83 series, replacement for Pall HC8300 element series, is manufactured entirely in Italy and includes all the size and filtration options offered by the original series
Designed for use in existing pressure applications for oil filtration and Pall lubrication, UFI Filters Hydraulics filter elements combine the best features of FormulaUFI media with 30 years of filtration know-how and experience to provide a full range of high-quality spare parts to meet the requirements of any pressure application.
The high efficiency and consistent performance over time of the EPD83 filter elements enable the end user to quickly achieve and maintain the cleanliness level required to protect lube and  hydraulic systems against component failure or unplanned downtime, which can significantly impact operating costs.
Replacement filter elements for the entire Pall HC8300 series
The EPD83 series is available in Pall's four lengths – 8, 16, 26 and 39 inches – and with all FormulaUFI.Micron variants, in fiberglass with filtration ratings from 5 to 30 microns.
The standard element is supplied with an NBR (Nitrile) seal, but on request it can be configured with an FKM (Fluoroelastomer) seal for high temperature applications.
In addition, if you have any additional requirements or specialised applications, our staff are available to identify the most appropriate custom filtration solution for any specific fluid cleanliness target.
EPD83 filter elements are manufactured at UFI Filters Hydraulics' Italian production plant using high-quality materials to ensure that they have a long life and excellent durability even in the most demanding working environments.
In fact, the EPD83 series has been designed according to the highest quality standards, ensuring compliance with the most stringent OEM specifications.
In summary, UFI Filters' new EPD83 series is an excellent choice for replacing Pall HC8300 elements in pressure applications, offering significant advantages in terms of performance, durability, efficiency and safety.
You can rely on the quality and innovation of UFI Filters Hydraulics to meet your industrial filtration needs.
Use our cross-reference webtool to rapidly identify the replacement element you need or see the equivalents in the table below: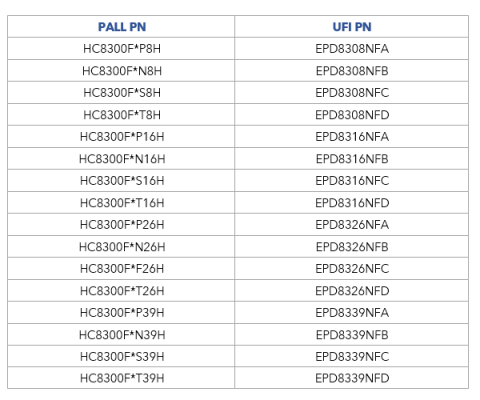 For any further information or support please contact our Staff.