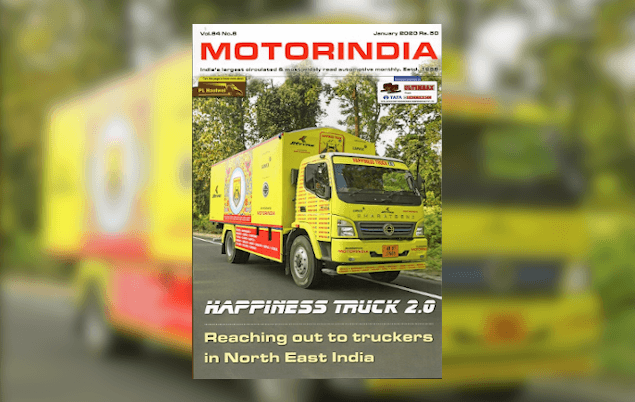 One the most followed sources for all latest news and updates on the Indian & Global Truck Industry, Motorindia, reserves a special article to UFI Hydraulic Division in the January Edition.
In the current issue, the Indian magazine dedicated a 30-page dossier to EXCON 2019, which proved to be a success.
As a matter of fact, the tenth edition of India's largest construction equipment event turned out to be very significant as it saw huge participation from the industry, including OEMs, suppliers, aftermarket players and other service providers.
For this reason, during the exhibition, Motorindia collected quite a few interviews with the most representative global players of the market.
One of these interviews was reserved to the Business Unit Director of the Hydraulic Division of UFI Group, Mr. Cesare Grassi, as one of the major players in filtration solutions for hydraulics and construction industry.
Indeed, UFI Filters Hydraulic Division already supplies hydraulic filters to most of the premium brands in the industry such as cranes, crushing equipment, drilling equipment, earth moving equipment, forklifts, hoists, hydraulic power transmission, loaders and compactors.
At the expo, UFI Filters Hydraulic Division presented its own entire range of products, with a detailed focus on the solutions specifically designed for Construction Equipment OEM needs.
In the first part of the article, commenting on the OEM outreach, Mr. Cesare Grassi said: "We wanted to increase our OEM business in India, considering the fact that we are already supplying a few of the prominent ones like JCB, CNH Industrial, Hyva, in the other market regions globally. We are trying to strengthen cooperation with them in India, along with other Indian manufacturers".
Furthermore, the Business Unit Director of UFI Hydraulic, explained that the Company in the near future will extend its filtration solutions also to material handling and renewable energy (filters for wind turbines) applications.
In addition, Cesare Grassi added that continuous investments are made in India to produce even more products locally, considering the country's ambitious development plans that are expected to result in a steady and massive growth for the CE sector.
Download the complete article or read it on line at the following link:
http://emagazine.motorindiaonline.in/31650/01_01_2020#page/99
Enjoy the reading!