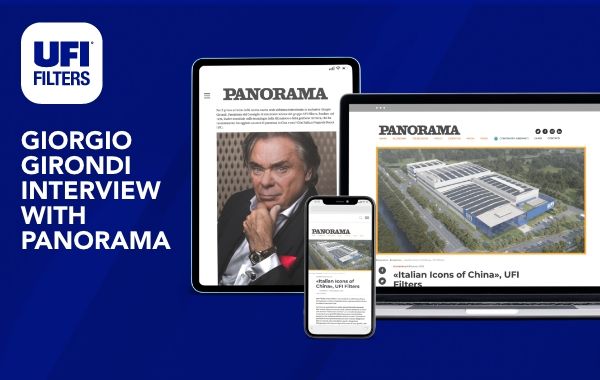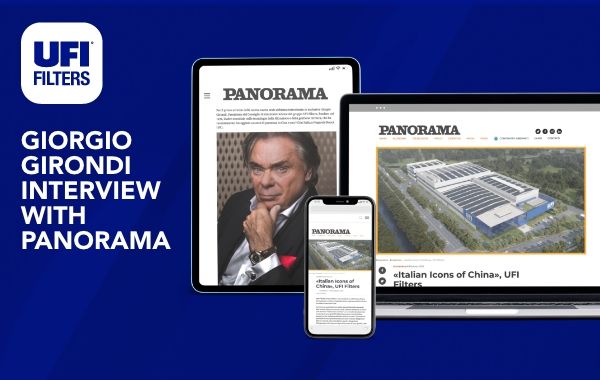 UFI Filters President Giorgio Girondi opens the new series "Italian Icons of China" on the website of the famous Italian weekly magazine Panorama
The new series of exclusive interviews edited by the journalist Carlo D'Andrea will gather a selection of internationally renowned Italian brands to share their experiences and market insights in China.
For the first interview of "Italian Icons of China" the President of UFI Filters, Giorgio Girondi, a pioneer in the Chinese market since 1982, has been chosen.
Indeed, UFI Filters was the first European group specialised in filtration to penetrate with its know-how and expertise into a still embryonic production reality.
UFI Filters, which recently celebrated 40 years of presence in China, has consolidated its activities over time, dedicated mainly to the local market, and now boasts six production plants  and a seventh opening this year, in Jiaxing, dedicated to the production of technologies for new green energy vehicles (NEV).
The exclusive interview with Giorgio Girondi
The interview traces the entire history of UFI Filters in China, starting with the motivations that led the president of UFI Filters to focus on this market and the characteristics that allowed the Italian company to develop so effectively: for Giorgio Girondi the key to success in this market is innovation, which belongs to UFI Filters' DNA.
And now the new bet is on new technologies, such as hydrogen, as President Girondi says, "…hydrogen will be the future… We are working hard to produce this technology in filter systems for all heavy vehicles and also in passenger vehicles…".
UFI Filters' success factors in China
The "GLOCAL" or "think globally, act locally" approach and the company's responsiveness are some of the success factors of UFI Filters in China: "being extremely fast and adapting to local market trends, as well as being able to be creative and flexible in serving customers and maintaining high standards of excellence," Girondi says.
In fact, the UFI Group can count on three Innovation Centers, located in Italy, China and India, dedicated to the study and design of new products and technologies as well as innovative filtration solutions that are then produced and commercialised by the other Group's companies.
A modus operandi that has enabled UFI to become a producer of excellence in thermal management systems, in particular market leader for that of the e-Axle (the system that combines transmission and electric motor).
A success story, the one written by President Giorgio Girondi in China, a country with which it is important to maintain open relations, "as it is the largest market in the world that has an enormous capacity for innovation."
The translation of the interview
UFI FILTERS "ITALIAN ICONS OF CHINA"
"Italian Icons of China" series: a collection of internationally renowned Italian brands, chosen to share their unique experiences and market insights in China. To provide our readers with an in-depth analysis of the operations of Italian companies in the Chinese market, we have launched our "Italian Icons of China" series of articles, in which we conduct interviews with some of the key CEOs of the most important Italian companies present in China.
We will talk about their success stories, explaining the specifics of how to operate in the Chinese market based on their companies background, the history of their brands and managing the business expansion based on their specific strengths and market conditions. Our icons will also provide their suggestions on how to achieve positive results in the Chinese market, useful strategies for multinational companies, small and medium-sized enterprises, entrepreneurs and all interested business leaders. They will also talk about their investment experiences, the differences between Italy and China and future prospects, both for China and for their sector.
Our Italian icon: UFI Filters SpA
For the first article of our new series, we exclusively interviewed Giorgio Girondi, Chairman of the Board of Directors of the UFI Filters Group, founded in 1971, world leader in filtration and thermal management technologies, which recently celebrated 40 years of presence in China and with HQ in Italy in Nogarole Rocca (VR).
Q: How many years has UFI Filters operated in China? Why focus on this market in particular?
I remember entering into the Chinese market in 1982, at the early stage of this market, there was a car on the road every 25 to 30 minutes. In Bengbu we set up the first plant for the Chinese Government, to whom we sold Know How, production lines and license agreements. This was the first metal cartridge oil filter that came to the Chinese market in 1984. Further, our company built 7 plants (Beijing, Changchun, Shanghai, Chongqing, Tianjin, Xinxian and the aforesaid Bengbu) on a turnkey basis for the Chinese government until 1995, when we decided to invest in Shanghai with Sofima brand, one of our filtration and thermal management brands. The other one is UFI Filters. Obviously, the Chinese market at the time was a small market but the potential we could see in this market at the time was limitless. … and we were right …. China now is the first automotive market in the world with over 25 mil vehicles sold per year and a positive growth year on year that in the last decade has been in the double digits every year (2010 17 Mil – 202125 Mil). Data source: International Energy Agency – Statista
 Q: Considering the immense culture gap between China & Italy, what in your experience are the opportunities and pitfalls of such a factor? How has your company overcome/took advantage of them?
Italy and China have much in common starting from the first Italian that set foot in China (Marco Polo, 13th century) and reported his travel adventures in the book "Il Milione". One trait of the culture is the thirst and hunger for innovation and the ability to optimize and apply available research to their products (e.g. Bullet trains ndr China has the world's largest network for bullet trains – 35.000 km in 2020) – Data source: China train booking
Innovation is part of our DNA and this is the trait that has allowed us to develop in this market from the beginning to today. We continue to develop this market every day with new ideas and new technologies. This has enabled us, on the one hand, to compete into the Chinese market, which is very focused on price, and on the other hand, to always succeed in giving innovative and higher quality products. We currently have 7 industrial sites in China (latest in Jiaxing ‐Zhejiang province will be operative starting from middle of this year 2023) and over 2000 people to produce new filtration and thermal management systems for battery electric car. We are riding now the latest trend in New Energy Vehicles (NEV) and the fuel cell technology both for car and trucks. We very much believe in hydrogen as the future without any harmful emissions into the atmosphere. We are working very hard to produce this technology in the filtration of all heavy vehicles and also in passenger vehicles. We think that battery‐powered cars will not be able to cover the entire vehicle fleet due to an inability of energy infrastructure and to the use of energy that still comes largely from fossil fuels. Surely hydrogen must be the future goal of a clean world. We believe that China is a great market for trucks, construction and agricultural equipment, and for all light vehicles, including stationary market.
Q: Regarding the filtration and thermal industry at large as well as the hydrogen one, what challenges in the Chinese marketplace must companies in your sector overcome? Are they significantly different comparing with other markets? Are they different for foreign and domestic enterprises or universal?
 The Chinese market besides thriving on innovation is a market that moves extremely rapidly with strong cost competition but that recognises and reaches for quality. You must be extremely fast and adapt to the local market trends and be able to be creative and flexible in serving customers maintaining high standards of excellence. It is a difficult balancing act that our local team is managing very well so far. We have conquered most local customers in automotive and Heavy‐Duty sectors besides our historical Global Clients in a local‐to‐local approach: this is a recognition of our ability to serve even the most demanding customers as a leading supplier in the Thermal Management Systems. NEVs need a certain temperature range to operate in the most efficient way and our products (Coolers, Chillers, E‐axle Heater Exchanges, Liquid Cool Condenser, Coolant‐Coolant Heater, Receiver Drier, Accumulator, and others) provide the best solutions on the market. In comparison to other markets, the speed is the most prominent trait. As an example, a new car model Time to Market in China is between 12 to 18 months while in Europe and Americas is above 30 months on average. This creates critical issue on R&D Product development and Supply chain and become a natural barrier to newcomers to the market. From the client perspective, the quality and speed to develop the vehicle together are the most critical factors. Additionally let's not forget the cost factor, considering that China is one of the most cost competitive markets in the world. This is an incentive for us to improve and be more competitive everywhere. The fact that we are present on every continent and that we have 21 plants around the world makes us universal and therefore able to develop all the products from every continent both for China and for other parts of the world, as well as from China for other countries around the world. Foreign companies that want to establish in China will have to be able to demonstrate attractive know‐how and other advantages because right now Chinese government plans to support mainly those types of companies.
 Q: UFI Filters is renowned to be the leading filtration and thermal management as well as hydrogen filtration supplier operating in a wide range of sectors, based on this year IDI's topic, what is the role that new technologies play within the overall range and design/functionalities of your products?
Our products are located inside the engine bay and for the most part not visible to the final customer, but nonetheless they must be appealing… So, the functionality of the product and the design are equally important and essential in the Chinese market. In the I.D.I. exhibition our products were displayed like jewellery in a store to highlight that these are little wonders of engineering and innovation. The NEVs new trend setters are coming from outside the traditional car manufacturers circle bringing new perspectives on design and functionality integration. Some newcomers have brands directly facing consumers like Xiao MI, Huawei, NIO, Xiao Peng with products that are closer to the Telecommunication sector than to the transportation one. So, the eye appealing concept is now extended to the vehicle, the interior, and the components. What was once a domain of fashion brands is now extending to the mobility / transportation sector. With a great satisfaction I can announce here that our Multitube air filtration system, a great design product with high efficiency (It can increase by 4% the horsepower of the car), has been chosen by FAW HongQi to be installed on the new L1 car, a beautiful limousine car that will be used by People Republic of China President.
Q: Have UFI Filters introduced new technologies in the Chinese marketplace different to those within other marketplaces? If so, why?
 We have a "GLOCAL operational concept" (thinking Globally, acting Locally) that pervades our philosophy in operations across 5 continents. We develop products in one of our 3 R&D centres located in Italy, China, and India according to the specialisation of the market area and distribute it to our other companies for manufacturing. For example, the Chinese R&D is our centre of excellence for Thermal Management systems and cabin filtration. They are the reference within the Group; in the last few years, thanks to that, we became a market leader of E‐Axle* Thermal management system (* E-transmission and E‐motor System) and China is our advance development Centre for Battery Thermal Management Modules.
 Q: How has the rapid emergence of NEVs in the Chinese marketplace influenced your company and its products?
 NEVs, first with hybrid propulsion then Full Battery Powered Engine have developed very quickly. Starting from 2014, year in which the Chinese government started pushing the NEV development, to now, they have created a NEW market of 7 Mil vehicles. Data source: China Ministry of Commerce Jan 31 2023. This is a new paradigm that in the car market did not exist since Carl Benz had patented the first version of a vehicle with an internal combustion engine back in 1886. – Data source: Automotive history. It is a revolution that will let the industry of car manufacturing make a quantum leap. And we are there, in the first line, supplying all manufacturers locally with our products and developing new ones together shaping the future. BYD, Tesla, Xiao Peng, Li Auto among other but let's not forget Weichai, Nikola and Iveco that are bringing these new propulsion systems in the Heavy duty sector. Thermal management, battery electric cars and hydrogen will change the world, and we are ready to change it!
Q: Considering the global push for carbon neutrality, what initiatives does your company/sector plan to implement to enhance sustainability?
 All these products are driving towards carbon neutrality and a better sustainable environment. We at UFI are dedicated to sustainability and in 2022 we published our first Sustainability Report to stress the commitment that the Group is undertaking to support the environment sustainability. We are currently preparing the report for the year 2022. We not only stop at products that support the reduction in Green House Gases (GHG) emissions and the drive to carbon neutrality but we are also involving our supply chain in the effort and we are studying the renewable energy strategy for the Group in order to be compliant with the Paris Agreement undertakings that are supported by all our clients. It is a global movement that involves all the layers of the value chain UFI Filters Group included.
Q: In 2023, what are the business trends that you think need the most consideration in China? Answered together as one question with the following one. One year from now, what do you envision will be main talking point of the Chinese marketplace for foreign investors?
The world has changed with the pandemic and has moved from a global to more local approach, in which every nation was an island unto itself. We are now rediscovering traveling and international trade, although the process is slow and not without issues that still need to be fixed. We at UFI Filters believe that the road forward will still be growth and development of new markets and technologies, and we are investing in this new trend that has been borne by the NEVs. We have just started construction of our biggest factory yet in China. In Jiaxing Zhejiang province, around 80 km from our existing industrial sites in Shanghai, we are building a new 40.000 m2 production facility with a state‐of‐the‐art laboratory and R&D facility that will be dedicated to these new products and their development. This will give us added capacity and potential to grow even further so that we can be the talking point of the marketplace. We believe that, investing in China to bring new innovative products, will be the way forward for foreign investors and to partake in this big market that is the People's Republic of China. We have always thought of bringing knowhow from European and American countries to China, but we need to get used to what the future will be and, that is, China is outpacing us in so many technologies. Therefore, in the future we may need their know‐how. We must remember that China in the 1500s was the most advanced country in the world, the first to discover gunpowder, fireworks and so many innovative products even before Europe. We need to keep our relationship with this immense nation open because it is the largest market in the world and because of this population's enormous ability to innovate.
Conclusion
Following our conversation with Mr. Girondi, based on the experience of UFI Filters, some aspects emerge as vital for success in the Chinese market: among the most evident are innovation and constant adaptability. If previously know-how and R&D were traditionally brought to China by European investors, now it seems that the pendulum is swinging in the opposite direction. In recent years, thanks to the rapid development of the Chinese market, R&D activities conducted in China (by Chinese and foreign enterprises) are rapidly surpassing those of their European and American counterparts; therefore, for foreign investors who want to have the opportunity to compete in their own market and in the global one, a presence in China is essential to grasp the technologies of the future, otherwise they will be left behind.
Furthermore, thanks to the success of the UFI Filters Group in the Chinese market, during the recent 7th edition of the Italian Design Icons Exhibition 2022, held in Shanghai, China, the UFI Filters Group won the "Most Trending Brand" award, presented to engineer Simone Trazzi, Chief Operating Officer of the Asia-Pacific region, by the Italian Consul General in Shanghai Tiziana D'Angelo. The award is in line with the UFI Filters Group ethos and with its presence in China in particular, the Group seeks to find more innovative and sustainable solutions in filtration and thermal management systems and, in parallel with China's drive towards carbon neutrality for 2060 followed this trend with the planned opening of its seventh industrial site in Jiaxing, China, becoming the Group's largest green plant. In such a dynamic sector, which mainly depends on innovative solutions, intellectual property, especially in the Chinese market, is of extreme importance. Although China's intellectual property protection system has greatly expanded and improved, especially in recent years, there are still some important differences between Europe and China. Therefore, Italian companies must be cautious of the risks of intellectual property infringement in the market; UFI Filters will be ready to act diligently on such matters.