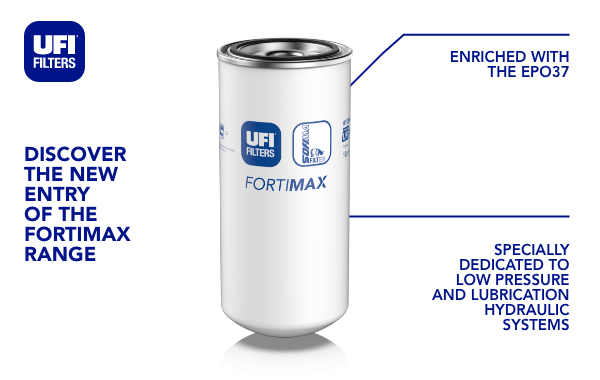 The FORTIMAX range of filter elements manufactured by UFI Filters Hydraulics now includes the new spin-on element EPO37
The new spin-on element EPO37 element further expands the existing spin-on range in the UFI Filters Hydraulics catalogue, which includes complete suction, return and pressure line filters and elements for hydraulic systems.
In particular, the compact design and quality construction of EPO37 make this spin-on element suitable for a variety of applications:
Agriculture
Compressors
Construction
Marine
Mining
Oil and gas
Wind power generation
An efficient filter element for modern low-pressure lubrication systems
The EPO37 element is typically installed in-line and can be used in hydraulic circuits with maximum working pressures up to 16 bar and flow rates up to 200 L/min.
The EPO37 filter element is available in FormulaUFI.MICRON (fibreglass), with filtration rating βx(c) > 1000, x = 12 µm(c), as tested according to ISO 16889. Like all the other products in the FORTIMAX range, this spin-on element offers dependable and reliable performance.
Moreover, thanks to the quality of the FormulaUFI media, the EPO37 element offers higher efficiency and dirt holding capacity than similar products on the market, together with high differential pressure stability.
EPO37 is an ideal aftermarket solution
The EPO37 series meets OE, OES and aftermarket requirements, thanks to UFI Filters Hydraulics' filtration technology and manufacturing background.
All UFI filters and elements are subjected to a rigorous testing regime, and this ensures excellent performance in comparison to many of the elements manufactured by our competitors.
To find UFI Filters Hydraulics equivalent part numbers, please check Cross Reference online.
Specifically, this filter element can be used to retrofit the hydraulics systems of the following applications:
Injection moulding machines, such as ENGEL, model 250 T
Wind turbines, such as Siemens Gamesa EOLIENNE
Crane trucks, such as GROVE GMK models 2035 E, 3050-1 V0, 3055, 3060 C, 4100, 4100-L, 5095, and 3060 L
Harvesters, such as SILVATEC, model 856 TH
Contact our Sales team for more information.