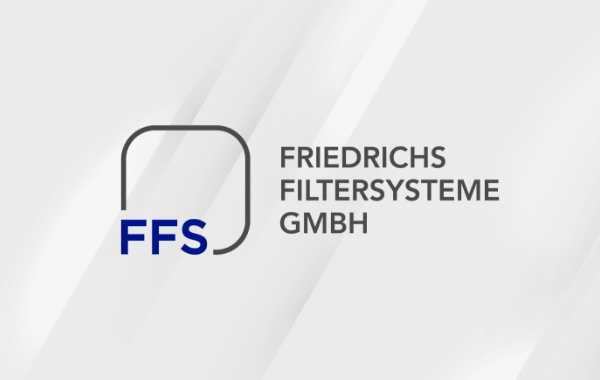 New brand, same soul for the new FFS logo, which revamps the design to recall the membership in the UFI Filters Group while keeping the original distinctive layout intact
UFI Filters Hydraulics is pleased to introduce the new FFS logo of Friedrichs Filtersysteme GmbH, which joined the UFI Group last September 2022.
In its 30th year of activity, UFI Filters Hydraulics acquired the German company Friedrichs Filtersysteme GmbH, enabling the UFI Group's Hydraulics Division to enter several additional markets and extend its portfolio with new products and patents: duplex fluidtech® series of filters, deltaP® differential pressure indicators, air-oil mist separators for big generators, silencers for air compressors, water filters for marine and industry and other filtration units and breathers for several sectors, including wind power generation, mining and chemical industry.
A new image that clearly communicates membership in the UFI Group
To best express the essence and history of the German company, the new logo retained some of the original features, to be easily recognisable in the local market and among Friedrichs Filtersysteme's longstanding customers, while aligning itself in shape and character with the logos of the UFI Filters Group, to highlight the synergies and new perspectives resulting from belonging to such an important international group.
«Our goal was to maintain and preserve the image of Friedrichs Filtersysteme, creating, at the same time, a logo that best represents the FFS brand today, which is now 100% integrated into the UFI Filters Group, » says Cesare Grassi, Chief Division Officer of UFI Filters Hydraulics, «thus marking a new beginning, with many new projects and goals».
FFS logo new look
The first new feature is the rounded outline, which allows for a perfect integration with the UFI and SOFIMA logos.
In addition, using the same font as the UFI logo, with a larger size than the original, makes the readability of the FFS name even more immediate, improving its recognisability on various digital and print media.
A new beginning, preserving the history of this important reality and learning from past experiences, yet looking at the present in a different way, to continue building a future of growth and success together with the UFI Group.
But the news doesn't end here: the restyling of the logo is just the beginning of the many activities that await us in the coming months.
Stay tuned!