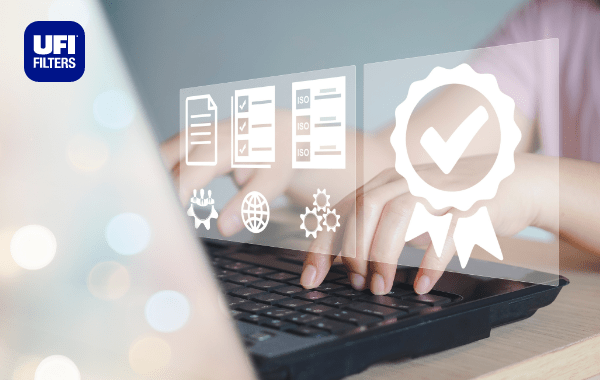 UFI Filters Hydraulics has had its IATF 16949 and ISO 9001 certifications renewed, confirming its commitment to maintaining an effective quality management system that is compliant with the relevant standards
UFI Filters Hydraulics successfully completed its fifth cycle of IATF 16949 quality management system certification, confirming the company's ability to effectively meet the organisational and management challenges of the automotive market.
IATF 16949 (formerly ISO-TS 16949) certification is the international standard for quality management systems in the automotive industry.
Moreover, for the non-automotive market – for which the company's quality system has been ISO 9001 certified since 2003 – our company guarantees continuity of supply with satisfactory results, thanks to important partnerships with reliable suppliers.
The audit carried out by the certification body DNV showed that the main required objectives and the specific targets set by the management had been achieved.
The audit report also highlighted the strengths of the organisation, in particular the high level of involvement and participation of all stakeholders and the effective application of the quality management system at all levels.

Thanks to the efforts of the Quality Department, managers and quality representatives of the services involved, no non-conformities to ISO 9001 were detected in the system.
The renewal of the certification is a reason for satisfaction for the work carried out on a daily basis to improve processes and pursue objectives and results in an increasingly efficient and effective manner.
UFI Filter Hydraulics pays great attention to the quality of its products and services, with a view to continuous improvement.
Thanks to all the employees whose daily commitment has made it possible to maintain a high level of quality this year as well, with the wish to continue successfully along the path we have been following for over 30 years.
 
The maintenance of the certification, which is for the design and production of filters and filter elements for fluids in industrial applications, once again demonstrates the desire of UFI Filters Hydraulics to increase the sustainability and safety of its operations, with the aims of protecting the environment and the lives of its employees and of continuing to invest in the quality of its products and services.
Download the IATF 16949 and ISO 9001 certificates from our website.