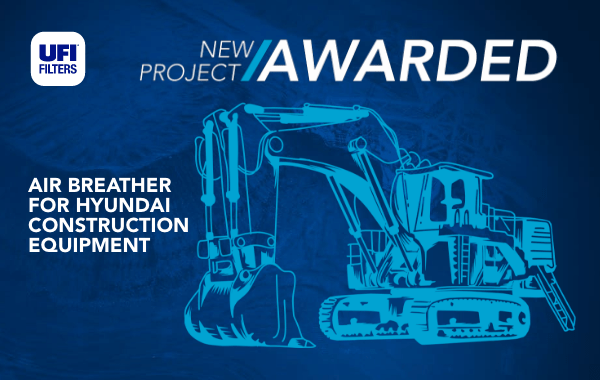 UFI Hydraulics has been selected to provide two special models of air breather for Hyundai Construction Equipment (HCE) in Korea, which will be installed in their excavators and wheel loaders
UFI Hydraulics – trusted partner of Hyundai
With the award of the contract to supply air breathers for oil tanks in construction machinery, Hyundai is demonstrating its trust in UFI Filters Hydraulics, based on the Italian manufacturer's 30 years of experience in the filtration sector, as well as its leading position in the hydraulic market.
In fact, UFI Filters Hydraulics is a key supplier to the HCE group in Korea, one of the world's leading manufacturers of excavators and construction equipment.
For several years, UFI Filters Hydraulics has been supplying the HCE group with a complete range of pilot and return line filters.
UFI Filters Hydraulics air breather for Hyundai excavators and wheel loaders
The UFI Filters Hydraulics air breather developed for Hyundai features a check valve and custom depressurization button that guarantees a low pressure drop and minimizes hydraulic pump fatigue.
The UFI Filters Hydraulics design gives the system increased protection and a longer service life, and it regulates the ingress of moisture into the tank.
This important partnership cements the position of UFI Filters Hydraulics as a trusted supplier to Hyundai Construction Equipment, Korea, and as reliable manufacturer of hydraulic products for the construction equipment sector.
For any additional information please contact our Sales Team or download our new brochure dedicated to construction applications to see the full range of available products.