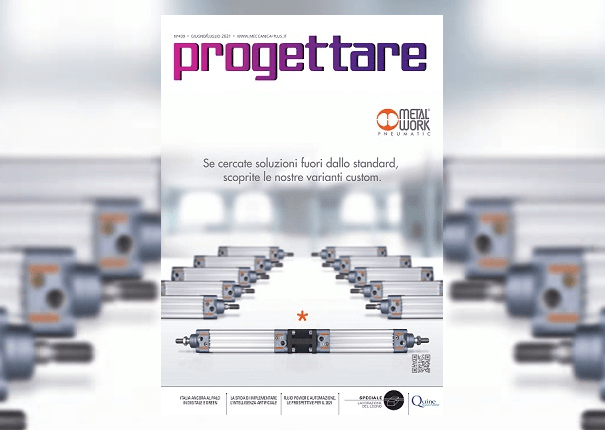 In the June-July 2021 edition, the Italian magazine Progettare presents the FORTIMAX series made by UFI, for pressure applications, in the section dedicated to Filters review.
This month's review is dedicated to advanced filtration solutions, with great attention to  easy maintenance, environmental sustainability and energy saving.
The FORTIMAX series, one of the most interesting products of the UFI Filters Hydraulic Division range, was selected as one of the products on the market in line with the theme of the month. 
Progettare presents the FORTIMAX series
The FORTIMAX series consolidates the pressure and spin-on product segments of UFI Filters Hydraulics.
This series works with an operating pressure up to 35 bar and maximum flow rate up to 200 litres per minute, with filtration from 5 to 21 µm (c) β> 1.000.
As a matter of fact, the FORTIMAX series ensures easy maintenance together with a defined and reliable performance.
FORTIMAX main applications
In particular, the compact design and the quality construction make this range of spin-on filters suitable for mobile, industrial, and agricultural applications, as it meets the requirements of both OEM, OES and the aftermarket.
The FORTIMAX series is suitable for hydrostatic transmissions, where the servo line requires high performance filtration at medium operating pressures, and is ideal for cooling circuits, as well as for traditional filtration on the return line to the tank or on auxiliary lines medium pressure.
Thanks to the quality of the filter media, guaranteed by FORMULA.UFI, this series ensures  high efficiency and greater accumulation capacity compared to similar products on the market.
UFI Filters Hydraulic Division is committed daily to the development of products able to meet maximum protection requirements of the hydraulic system. UFI Filters ensures high efficiency and constant stability, in line with market demands and technology, by using high quality materials and latest generation machinery.
The development of new products for UFI Filtres is an on-going process driven by the needs of the customer and the protection of our fragile planet.
In case of specific and customised needs, the Hydraulic Division of the UFI Group can develop special solutions, both from existing products and studying completely new products together with the customer.
The article of Progettare Magazine is available by clicking here.
Discover all UFI products for pressure application or download directly the FORTIMAX brochure.
For any further information don't hesitate to contact our Sales Team!