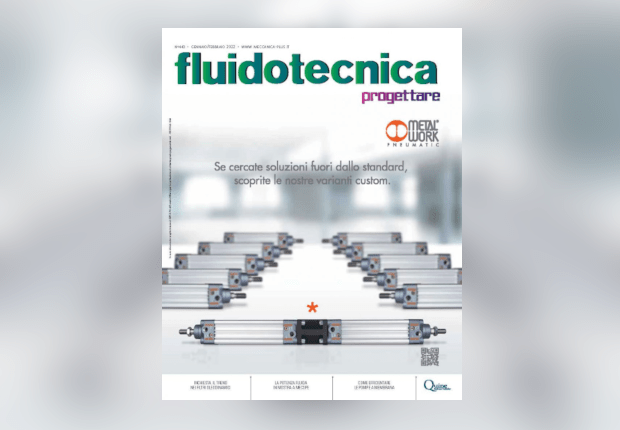 In the January 2022 edition, the Italian magazine "Fluidotecnica" presents a report dedicated to "Intelligent filters for the system", with interviews to the main hydraulic filters manufacturers, UFI Filters Hydraulics included.
This month's report is dedicated to the status of the art of hydraulic filters engineering and manufacturing, with great attention to four main trends, summarised by UFI Filters Hydraulic Business Unit Director, Cesare Grassi, as follows.
1. What are the new frontiers of the hydraulic sector?
One important frontier is the improvement of the environmental impact of the hydraulic components:
The optimisation of the design and the materials, ensuring at the same time high performances;
The integration between mechanics and electronics, using IoT intelligent supports;
The predictive maintenance schedule in order to plan efficiently all the operations and avoid unplanned downtime.
2. What are the your strategy strengths to satisfy the target market?
UFI Filters Hydraulics is considered a reliable partner that can offer not only hydraulic products but also complete filtration solutions, thanks to:
A wide range of high quality filters and elements
Product innovation
Customisation based on application specifications and customer requirements
Fast and efficient assistance
The most appreciated aspects by our customers are the technical support and the top speed reactions of our team.
3. What are the key factors to evaluate when selecting an hydraulic product?
The filter product must comply with the manufacturer's specifications and ensure the system required level of contamination to maintain the same efficiency over time, without neglecting the quality of the materials and the life of the filter element. Other important factors are the pre and post-sales support as well as the costs of the company operations (TCO)
4. Can you describe one significant product manufactured by UFI Filters Hydraulics?
UFI Filters Hydraulics filters are made with "FormulaUFI" filtering technology. Thanks to our Innovation Centres and to the experience of the UFI Filters Group, we developed 6 high performance filter formulas. Formula UFI.Micron, for example, used in the FPG series with patented filter element, guarantees high efficiency and low pressure drop for the entire life of the element.
The development of new products for UFI is an on-going process driven by the needs of the customer and the protection of our fragile planet.
In case of specific and customised needs, the Hydraulic Division of the UFI Group can develop special solutions, both from existing products and studying completely new products together with the customer.
Discover the Fuidotecnica Report "Intelligent filters for the system" or contact our Sales Team for further information!