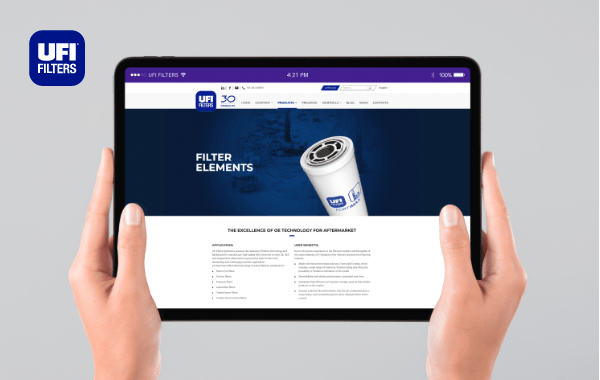 The new section dedicated to the filter elements is available online and includes the latest series presented by UFI Filters Hydraulics
Discover the new FILTER ELEMENTS section
The new section is available in the PRODUCTS menu and is specifically dedicated to the series of the filter elements engineered by UFI Filters Hydraulics for hydraulic applications.
Each series contains a brief summary of the technical features of the product and the detailed pdf datasheet, easily accessible and downloadable from any device.
The first series included in this new section are the FORTIMAX, the high pressure spin-on series typically mounted in-line and used on hydraulic circuits with maximum working pressure up to 35 bar and flow rates up to 200 l/min, and the SRH series, the two-stage elements for Wind Power Generation, with a brand new brochure.
UFI Hydraulics filter elements, both original and interchangeable ones, are subjected to the same rigorous tests and manufacturing process in order to meet the most demanding OE, OES and Aftermarket requirements.
The perfect formula for each filter element
UFI Filters Hydraulics filter elements are made with FormulaUFI, 6 different material formulas released by UFI Group to satisfy the most challenging filtration and environment requirements. 
The FormulaUFI range covers every kind of media and brings several advantages, including:
higher filter efficiency,
better combination of the filter materials and energetic process optimisation due to lower pressure drop,
higher differential pressure stability
enhanced dirt holding capacity over the whole lifetime of the element.
Furthermore, the use of innovative materials specifically designed for each individual application generates extended component life and service intervals, thus reducing labor, material and disposal costs.
Thanks to 30 years of experience in hydraulic filtration, UFI Filters Hydraulics is aware that even the smallest element of the hydraulic system can significantly improve the equipment efficiency and extend the components life.
For this reason, UFI Group is always focused on constant research and the use of innovative media and formulas, specifically engineered for each application and environment requirements.
Discover all UFI Hydraulics element series online or contact our Sales Team for any further information and support.
Enjoy your surfing exploring!