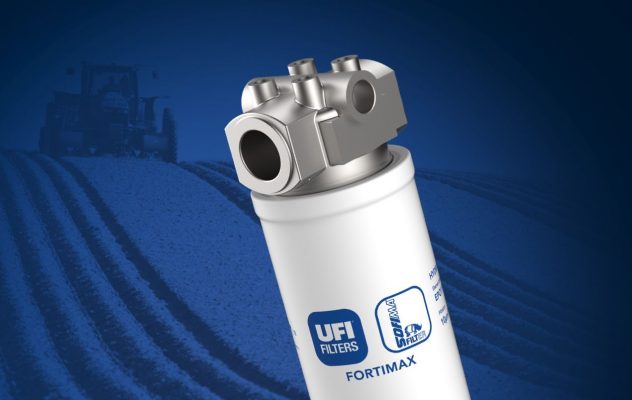 Spin-On Filters are hydraulic filter assemblies with an aluminum head and one or two Spin-on elements, usually installed inline. The main advantages of spin-on filters are the easy and quick replacement of the exhausted cartridge and the reduction of maintenance costs. Moreover Spin-on configuration is strategic when the machines involved in the maintenance operate in particularly contaminated contexts and difficult environmental conditions.
Spin-on filters are employed in low- to high-pressure hydraulic systems to protect individual components (e.g. pumps or valves) or the entire circuit from damages caused by contaminants. In particular, high pressure spin-on filters are typically mounted in-line and can be used on hydraulic circuits with maximum working pressure up to 35 bar and flow rates up to 200 l/min. They are perfect for high-flow applications, as they usually feature a die-cast top heading of aluminium and a heavy-duty steel body, offering the strength and durability necessary for high pressure hydraulic systems. The filter element captures and collects contaminants as the process fluid flows through it, preventing them from circulating through the system. This is important as inadequate filtration can result in decreased system efficiency and/or damaged system components.
High pressure spin-on main applications
High pressure spin-on filters cover a wide range of mobile and industrial applications. They are ideal for use in servo-assisted hydrostatic transmissions where the servo line requires high performance filtration at medium working pressures.
Moreover, it is particularly suitable for cooling circuits, as well as for the traditional filtration of the fluid on the return line or on auxiliary low pressure lines.
Other applications:
Fluid conditioning systems
Drainage lines
Cooling circuits
Transfer of fuel
Hydrostatic loading pumps
Engine oil systems
Power transmissions
Closed loop systems
Mobile equipment (cement trucks, mobile cranes, waste management trucks, tankers, etc.)
Agricultural equipment
Power packs
Earthmoving equipment
High pressure pumps
User Benefits
 Main benefits of Spin-on application are:
Compact design and quality construction
Easy to install
Rapid to replace
No leaks during the maintenance operations, as oil is contained inside
Made with oxidation resistant materials (aluminum head)
Optimal performance in any operational and environmental context
The high pressure FPO series made by UFI Hydraulics is specially engineered to protect the hydraulic system in rigorous conditions, thus providing reliable solutions for several applications, from agricultural and construction machines to industrial applications. Moreover, UFI Hydraulics high pressure spin-on filters can rely on the technology of FormulaUFI.Micron, based on inorganic fiber impregnated with resins, having such characteristics of first class filtration efficiency and low differential pressure drop over the whole lifetime of the element, available in 5, 7, 12, 16 and 21 µm(c).
Discover the complete UFI Hydraulics range or select the best solution for your application by using one of our webtools.